By Todd Allen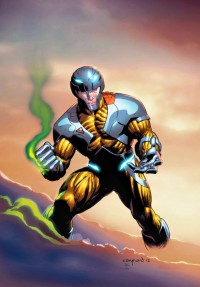 Word on the street was that DC and Marvel were starting to throttle back on the exclusive deals.  The biggest names would still be exclusive, but as deals were expiring a lot of people you'd normally expect to be on an exclusive would be freeing up.  And, of course, exclusive were more about not working at about DC and Marvel at the same same time than they were about being truly exclusive.  Plenty of them had an out to do a creator-owned book at someplace like Image or Oni.
Ironically, as DC and Marvel pull back from exclusives, the newly revived Valiant throws their hat into the exclusivity arena.  Today, they announce Cary Nord as their first exclusive signing.  Nord has mostly worked for Marvel and Dark Horse over the years.  He's probably best known for pairing with Kurt Busiek and reviving Conan at Dark Horse as one of the most popular indie books of the time.
Does this mean exclusivity wars aren't being scaled back?  It's a bit too early to say.  This is just one signing, but historically, Crossgen really raised the exclusivity stakes, not quite 15 years ago.
Official PR, followed by some art:
CARY NORD Signs As VALIANT's First Exclusive Creator

Valiant is proud to announce that Eisner Award-winning artist Cary Nord has signed on to become the publisher's first exclusive creator. Nord will be making his Valiant Comics debut alongside New York Times best-selling author Robert Venditti in X-O Manowar #1 — a landmark 40-page issue that launches Valiant's return to comic shops on May 2nd.

"It's been immensely exciting working on X-O Manowar," said Nord. "I'm having a great time working with this character and this team. The chance to help define the Valiant Universe was one that was just too good to pass up."

With over two decades of industry experience, Nord has contributed to some of the most popular series in comics, including Daredevil and Action Comics, and has collaborated with some of the industry's preeminent talents. With writer Kurt Busiek, Nord forged an Eisner Award-winning run on Dark Horse's Conan.

This May, Nord tackles the return of another comic book icon with X-O Manowar #1 — the first issue of a new ongoing series that will cement the foundations of the Valiant Universe — and spotlight the visceral action and dynamic storytelling that have made him a fan favorite artist around the world.

"Cary is a tremendous talent and his work on X-O Manowar has elicited an off-the-charts response from fans and retailers. We're extraordinarily happy to have him on board for the long haul," said Executive Editor Warren Simons. "We're dedicated to bringing excellence with our comics month in and month out, and Cary has already proven himself to be a true visionary in designing the new direction of the Valiant Universe with X-O Manowar."