There is a new genre emerging..."New Adult" fiction for older teens aka
college-aged readers.

You never stop growing up, but little in the market seems to address the coming-of-age that also happens

between the ages of
Nineteen to Twenty-six

. Life changes drastically once high school is over, you have college, first jobs, first internships, first adult relationships…
Part of the appeal of NA is that the storylines are about characters who are taking on adult responsibilities for the first time without guidance from their parents. And the storylines generally have a heavy romance element.

Keep this in mind as you revise your wonderful story, New Adult books are mostly about that specific time in every person's life—the time when the apron strings are cut from your parents, you no longer have a curfew, you're experiencing the world for the very first time, in most cases, with innocent eyes. New Adult is this section of your life where you discover who you want to be, what you want to be, and what type of person you will become. This time defines you. This is the time of firsts, the time where you can't blame your parents for your own bad choices.
An NA character has to take responsibility for their own choices and live with the consequences. Most storylines are about twenty-something (18 to 26) characters living their own lives without any parents breathing down their necks, and learning to solve things on their own as they would in real life. New Adult fiction focuses on switching gears, from depending on our parents to becoming full-fledged, independent adults.
I am a firm believer that if you're going to write a certain genre that you should read it, too.
So
I'm going to recommend that you start devouring NA novels to get a real sense and understanding of the genre before you write one.

Here are some great recommendations: https://www.goodreads.com/genres/new-adult-romance and http://www.goodreads.com/genres/new-adult and https://www.goodreads.com/shelf/show/new-adult-romance

Just as YA is fiction about teens discovering who
they
are as a person
,
New Adult
(NA)
is fiction about building your own life
as an actual adult
.
As older teen readers discover the joy of the Young Adult genres, the New Adult—demand may increase. This, in turn, would give writers the chance to explore the freedom of a slightly older protagonist (over the age of 18 and out of high school, like the brilliant novel, "BEAUTIFUL DISASTER" by the amazing talents of author,
Jamie McGuire)

while addressing more adult issues that early 20-year-olds must face.
Older protagonists (basically, college students) are surprisingly rare; in a panel on YA literature at Harvard's 2008 Vericon,
City of Bones
author talked about pitching her novel, then about twenty-somethings, as adult fiction. After several conversations, Clare realized she had to choose between adults and teens. She went with teens.
Quote from the publisher, St. Martin's Press
:
We are actively looking for great, new, cutting edge fiction with protagonists who are slightly older than YA and can appeal to an adult audience. Since twenty-somethings are devouring YA, St. Martin's Press is seeking fiction similar to YA that can be published and marketed as adult—a sort of an "older YA" or "new adult." In this category, they are looking for spunky but not stupid, serious but not dull, cutting-edge, supernatural stories.
Quote from
Georgia McBride, author (Praefatio) and founder of #YALitChat and publisher at Month9Books:
"New Adult is a fabulous idea in theory, and authors seem to be excited about it. But in a world where bookstores shelf by category, to them, it is either Adult or Young Adult. Some booksellers even call their YA section "teen." And when you have a character who is over a certain age (19 seems to be the age most consider the start of New Adult), it is received as Adult. In some cases, the designation by publishers causes more confusion than not.
Let's face it, YA is associated with teens, and at 19, most no longer consider themselves teens. So, it would support the theory of placing these "New Adult" titles in the Adult section. However, with the prevalence of eBook content, it would seem that the powers that be could easily create a New Adult category if they really wanted to...."
There's also a list on goodreads of New Adult book titles. These books focus on college age characters, late teens to early twenties, transitioning into the adult world.
Some popular authors of the NA category include:
Jamie McGuire

Jessica Park

Tammara Webber

Steph Campbell

Liz Reinhardt

Abbi Glines

Colleen Hoover
Does the genre appeal to you?
Does it sound better than YA (teen novels)?
Or are you happy with YA as it stands?
Do you consider YA to include characters that are over the age of eighteen?
By: LAURIE WALLMARK, on 4/30/2015
Blog:
Just the Facts, Ma'am
(
Login to Add to MyJacketFlap
)
JacketFlap tags:
social_media
,
Add a tag
What not to do when using social media.

Posted on 4/26/2015
Blog:
the Literary Saloon
(
Login to Add to MyJacketFlap
)
JacketFlap tags:
Add a tag
The most recent addition to the complete review is my review of Per Wahlöö's Murder on the Thirty-First Floor -- a recent re-translation of his 1964 novel (originally published in English as The Thirty-First Floor, in 1967).

Wahlöö is of course best known for his Martin Beck series, co-written with his wife, Maj Sjöwall, but he also wrote several novels on his own, including this one, the first in his Inspector Jensen diptych.
In the US Vintage Crime/Black Lizard have re-issued five of his solo efforts -- I had previously reviewed The Generals -- and this one was certainly worth resurrecting (and re-translating).
Posted on 4/26/2015
Blog:
the Literary Saloon
(
Login to Add to MyJacketFlap
)
JacketFlap tags:
Add a tag
Always fun to see the local complaints -- though admittedly it's also a bit depressing to see such problems and issues appear to be universal -- as in The Standard Abenea Ndago notes there are Few arguments that publishers and editors will never win.
Ndago doesn't mince words:
The universe of locust feeding on the grass of Kenyan literature is presided over by a clueless generation of publisher CEOs that is probably a hundred times more traditional than the old people they usually accuse of this disease.
And:
We did not initially know it, but it should now be clear that the second biggest stumbling block to the growth of Kenyan literature -- second only to State House -- is the Kenyan publisher.
By: Dan Bostrom, on 4/25/2015
Blog:
ALSC Blog
(
Login to Add to MyJacketFlap
)
JacketFlap tags:
Author Spotlight
,
Blogger Dan Bostrom
,
Dia
,
Arbuthnot
,
Pat Mora
,
Add a tag
ALSC and the 2016 May Hill Arbuthnot Lecture Committee are proud to announce the opening of the application to host the 2016 event featuring award-winning children's book author and pioneering literacy advocate Pat Mora.
Host site application forms can be downloaded at the Arbuthnot site. Applications are due May 15, 2015. Information about host site responsibilities is included in the application materials. The lecture traditionally is held in April or early May.
Born and raised in El Paso, Texas, Mora grew up bilingual and bicultural. With degrees in English and speech, she was a teacher and university administrator before writing children's books. Known for her lyrical style, Mora's poetry and prose have won numerous awards, including a 2005 Belpré Honor Medal for text for "Doña Flor: A Tall Tale of a Giant Woman with a Great Big Heart," published by Knopf Books for Young Readers, and illustrated by Raul Colón. Her generosity for sharing bookjoy, the phrase she coined for the power and pleasure of words, led Mora to launch "Día," which will observe its 20th anniversary in 2016.
The post Reminder: Apply to Host the 2016 Arbuthnot Lecture! appeared first on ALSC Blog.
By: Craig Deeley, on 4/25/2015
Blog:
GreenLightCD
(
Login to Add to MyJacketFlap
)
JacketFlap tags:
Add a tag
Tension, Doubt, Performance anxiety… Can he catch it? Can it get away?
By:
Kurtis Scaletta
, on 4/25/2015
Blog:
Kurtis Scaletta
(
Login to Add to MyJacketFlap
)
JacketFlap tags:
Miscellaneous
,
bees
,
gardening
,
monarchs
,
native grasses and forbs
,
phyllis root
,
plant a pocket of prairie
,
pollinators
,
Add a tag
I was inspired by one of my own characters to plant a "bee garden," this spring, and today planted the better part of my wife's little pocket of prairie with beardtongue, salvia, bee balm, black-eyed susans, coneflowers, thymus, verbena, coreopsis, asclepias, and yarrow. There's an empty spot for milkweed we're getting from a neighbor. The stuff in back is prairie grass that's (mostly) been there for years.
It doesn't look like much now, but by mid-summer most of these guys will be 2-4 feet high, in bloom, humming with bees and crawling with caterpillars. My wife even supports this venture though she doesn't like butterflies, but it will be hard not to be taken in by the potential magic of watching, with our bug-loving boy, a monarch nudging its way out of a chrysalis one late summer morning. Thanks to a book by a local author, he is also expecting bison.
Filed under:
Miscellaneous
Tagged:
bees
,
gardening
,
monarchs
,
native grasses and forbs
,
phyllis root
,
plant a pocket of prairie
,
pollinators
By:
Becky Laney
, on 4/25/2015
Blog:
Becky's Book Reviews
(
Login to Add to MyJacketFlap
)
JacketFlap tags:
2015 library loot
,
Add a tag
New Loot:
The Turnip Princess and Other Newly Discovered Fairy Tales by Franz Zaver von Schonwerth
The Whole Story of the Bible in 16 Verses by Chris Bruno
The Sound Of Music Story by Tom Santopietro
Fahrenheit 451 by Ray Bradbury
Dr. Seuss's ABC
Dr. Seuss's Sleep Book
King's Cross by Timothy Keller
Ten Apples Up On Top by Dr. Seuss
The Sneetches and Other Stories by Dr. Seuss
Onion John by Joseph Krumgold
Leftover Loot:
The Acts of King Arthur and His Noble Knights by John Steinbeck
The Midwife's Tale by Sam Thomas
Three Musketeers by Alexander Dumas, translated by Richard Pevear
Murder at Mullings by Dorothy Cannell
Green Eggs & Ham by Dr. Seuss
Princess of the Silver Woods by Jessica Day George
Princess of Glass by Jessica Day George
Princess of the Midnight Ball by Jessica Day George
The Black Cauldron by Lloyd Alexander
Les Miserables by Victor Hugo, translated and with notes by Christine Donougher
Cursed in the Act by Raymond Buckland
The Search for the Red Dragon by James A. Owen
The Just City by Jo Walton
Here, There Be Dragons by James A. Owen
The Iron Trial by Holly Black and Cassandra Clare
The Indigo King by James A. Owen
Enchantress from the Stars by Sylvia Louise Engdahl
War Bonds: Love Stories from the Greatest Generation by Cindy Hval
Emma: A Modern Retelling by Alexander McCall Smith
The Story of the Trapp Family Singers by Maria Augusta Trapp
Memories Before and After The Sound of Music by Agathe von Trapp
Mary Poppins, She Wrote: The Life of P.L. Travers by Valerie Lawson
George, Nicholas and Wilhelm: Three Royal Cousins and the Road to World War I by Miranda Carter
The Beauty and the Sorrow: An Intimate History of the First World War, Peter Englund, translated by Peter Graves.
Anastasia and Her Sisters by Carolyn Meyer
The Far Side of Evil by Sylvia Louise Engdahl
The War that Ended Peace: To Road to 1914 by Margaret MacMillan
Pete the Cat's Groovy Guide to Life by Kimberley and James Dean
Who Thinks Evil: A Professor Moriarty Novel by Michael Kurland
The Infernal Devices & Others: A Professor Moriarty Omnibus by Michael Kurland
The Empress of India: A Professor Moriarty Novel by Michael Kurland
The Devil in the White City: Murder, Magic, and Madness at the Fair that Changed America by Erik Larson
Library Loot is a weekly event co-hosted by Claire from
The Captive Reader
and Linda from Silly Little Mischief that encourages bloggers to share the books they've checked out from the library. If you'd like to participate, just write up your post-feel free to steal the button-and link it using the Mr. Linky any time during the week. And of course check out what other participants are getting from their libraries.
© 2015 Becky Laney of
Becky's Book Reviews
By:
Elizabeth O. Dulemba
, on 4/25/2015
Blog:
Elizabeth O. Dulemba
(
Login to Add to MyJacketFlap
)
JacketFlap tags:
Add a tag
Every year, Stan and I celebrate our anniversary by attending the Inman Park Festival and buying art. We've been married 14 years, so we've gathered some nice items over time. Today we found our last festival treasure before we start some new traditions in Scotland. It's a lovely (little) print by Andrew Kosten of Gum Pal Press. I adored all his work, so it was hard to decide. Stan, of course, leaned toward the piece with wheels. Isn't he great? Click here or the image to go see more of Andrew's work (and maybe buy some for yourself)!

By:
Becky Laney
, on 4/25/2015
Blog:
Becky's Book Reviews
(
Login to Add to MyJacketFlap
)
JacketFlap tags:
week in review 2015
,
Add a tag
Miss Marjoribanks
. Margaret Oliphant. 1866. 512 pages. [Source: Bought]
Dick Whittington and His Cat
. Told and cut in linoleum by Marcia Brown. 1950. Simon & Schuster. 32 pages. [Source: Bought]
Board Book: The Babies and Doggies Book
. John Schindel and Molly Woodward. 2015. Houghton Mifflin Harcourt. 26 pages. [Source: Review copy]
Board Book: This Little Piggy
. A Finger & Toes Nursery Rhyme Book. Natalie Marshall. 2015. [May] Scholastic. 12 pages. [Source: Review copy]
Board book: Red Light, Green Light
. Yumi Heo. 2015. [June] Scholastic. 20 pages. [Source: Review copy]
Jampires
. Sarah McIntyre. Illustrated by David O'Connell. 2015. [June] Scholastic. 32 pages. [Source: Review copy]
Side by Side
. Rachel Bright. Illustrated by Debi Gliori. 2015. [April] Scholastic. 32 pages. [Source: Review copy]
One Fish Two Fish Red Fish Blue Fish
. Dr. Seuss. 1960. Random House. 60 pages. [Source: Library]
Ramona's World
. Beverly Cleary. 1999. HarperCollins. 240 pages. [Source: Library]
Ginger Pye
. Eleanor Estes. 1950. Houghton Mifflin Harcourt. 306 pages. [Source: library]
Bo at Iditarod Creek
. Kirkpatrick Hill. Illustrated by LeUyen Pham. 2014. Henry Holt. 288 pages. [Source: Library]
Green for Danger
. Christianna Brand. 1944. 256 pages. [Source: Bought]
Dragon Flight
. Jessica Day George. Bloomsbury USA. 272 pages. [Source: Library]
Hippos Are Huge
. Jonathan London. Illustrated by Matthew Trueman. 2015. Candlewick. 32 pages. [Source: Review copy]
A Life Observed: A Spiritual Biography of C.S. Lewis
. Devin Brown. 2013. 256 pages. [Source: Library]
Gospel: Recovering the Power That Made Christianity Revolutionary
. J.D. Greear. Foreword by Timothy Keller. 2011. B&H Books. 266 pages. [Source: Bought]
The Lion, The Witch, and the Wardrobe
. C.S. Lewis. 1950. HarperCollins. 224 pages. [Source: Bought]
This week's recommendation(s):
I loved, loved, LOVED Miss Marjoribanks. I also really enjoyed rereading The Lion, The Witch, and the Wardrobe.
© 2015 Becky Laney of
Becky's Book Reviews
By:
Becky Laney
, on 4/25/2015
Blog:
Becky's Book Reviews
(
Login to Add to MyJacketFlap
)
JacketFlap tags:
2015
,
board books
,
books reviewed in 2015
,
Houghton Mifflin Harcourt
,
review copy
,
Add a tag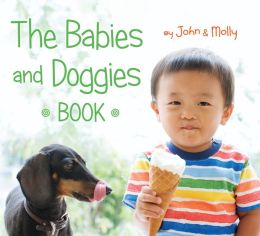 Board Book: The Babies and Doggies Book. John Schindel and Molly Woodward. 2015. Houghton Mifflin Harcourt. 26 pages. [Source: Review copy]
First sentence: Lots of things babies do, doggies do too. Babies and doggies hide and peek. Babies and doggies like to eat.
Premise/plot: Photos and text reveal just how much babies and doggies have in common. The photos are adorable. If you find babies cute and adorable, you'll like the pictures. If you find dogs cute--especially puppies--then you'll like the pictures. If you like puppies and babies, you'll find the book precious.
My thoughts: I liked it. I did. I loved looking at the photographs. The text was very nice as well. The rhyming worked well and didn't get in the way.
© 2015 Becky Laney of
Becky's Book Reviews
By: Terry Hooper-Scharf, on 4/25/2015
Blog:
ComicBitsOnline.com
(
Login to Add to MyJacketFlap
)
JacketFlap tags:
Add a tag
There are UK comic creators who deserve to get far more recognition than they do. I have highlighted some of these in the past but it is worth mentioning one other.
Ben R. Dilworth.
Now the man inked over my pencils "in the day" (which is what we call the period 1986-1990) on strips such as
Liz & Jen: Coming Out
and
D-Gruppe: Revenge of the Ice Queen
.
He was also self-publishing Small Press comics under his Penguinflight banner and seemed to be contributing to every small press comic going -
Bum Comic, Creepy Crawlies, Zine Ager, Hardware
-it is a bloody long list and the legendary
Picasso Cafe
must
never
be forgotten!
Neither do I forget Dilworth stapling
Black Tower Adventure
issues across his knee at the old Bath marts. Nor the experimental acetate, spray-painted covers for
Previews Comic
or a dozen other mad things.
We ought to, really, forget the most famous and now nearly lost legendary visit of Dilworth and Andrew Hope (who recently worked for Marvel Comics) to Bristol. The drunken outrages committed -including throwing up over the window of comic shop, Forever People, or the very long discussion between the two on the movie
A Company of Wolves
which kind of resulted in the 0300 hours incident of me wielding a bread-knife......yeah, let's forget that.
Anyhow, The Tall Man wrote and drew for comics such as Fantaco's
Taboo
, Eternity Comics
Killing Stroke
and Trident Comics (PLEASE no one mention Trident to Paul Ashley Brown!!)
The Shadowmen
written by some Scots bloke...uh, Mark Millar.
He can also claim to be, as the artist, co-creator of Pete Wisdom, initially created by Warren Ellis and drawn by Ben , in a pitch for "
Electric Angel
" for publisher Trident Comics.
Didn't know all that did you?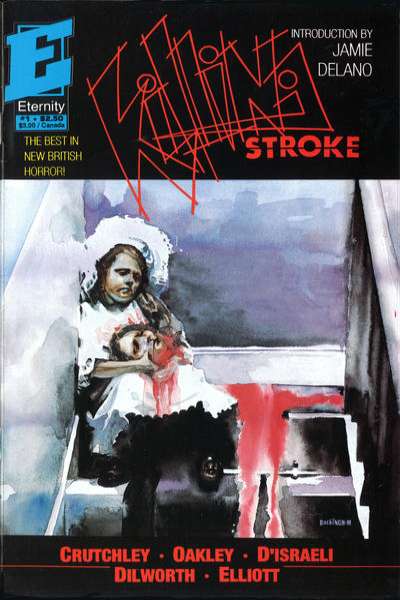 Here are some of his credits from a data base I just stumbled across at
http://comicbookdb.com/creator.php?ID=8028
Writer:
Killing Stroke (1991)
Penciller:


Inker:

Gore Shriek (1986)
Gore Shriek (1990)
Killing Stroke (1991)
The Shadowmen (1990)
Shriek (1989)
Taboo (1988)
Trident (1989)
Letterer:

And over recent years The Tall One has had work published by Black Tower -including his Award winning Haiku (in English), Aesop's Fables, Purple Hood, Runestone, Chronos:The Watchman -and much, much more that has ensured Black Tower titles such as Adventure were able to carry on after a rough patch.
The man is a fecking comic book genius. WFT is he not working full time in comics and getting paid??!
Calming down a bit....deep breath. Seriously, check out the Black Tower lulu.com store front and you'll find Dilworth work. Maybe one day he'll get a creator byline for Pete Wisdom, hmm?
From myself I'd like to offer him a big THANK YOU.
You wait, I'll make him famous yet. Poor but famous!
And I went and forgot
Loaded
number 1 from 1991 in which I wrote and pencilled
Graveyard
and Dilworth inked and lettered!
Posted on 4/25/2015
Debbie Dadey is the author, with co-author Marcia Thornton Jones, of such best-selling reluctant readers children's series as The Adventures of the Bailey School Kids, The Swamp Monster in Third Grade, Slime Wars, Ghostville Elementary, The Bailey School Kids Junior Chapter Books, the Keyholders series and the Mermaid Tales series from Simon and Schuster.
Posted on 4/25/2015
Debbie Dadey is the author, with co-author Marcia Thornton Jones, of such best-selling reluctant readers children's series as The Adventures of the Bailey School Kids, The Swamp Monster in Third Grade, Slime Wars, Ghostville Elementary, The Bailey School Kids Junior Chapter Books, the Keyholders series and the Mermaid Tales series from Simon and Schuster.
By:
Becky Laney
, on 4/25/2015
Blog:
Becky's Book Reviews
(
Login to Add to MyJacketFlap
)
JacketFlap tags:
2015
,
board books
,
books reviewed in 2015
,
review copy
,
Scholastic
,
Add a tag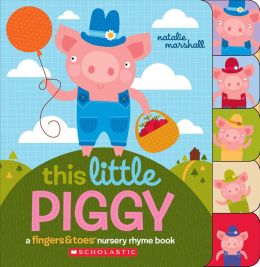 Board Book: This Little Piggy. A Finger & Toes Nursery Rhyme Book. Natalie Marshall. 2015. [May] Scholastic. 12 pages. [Source: Review copy]
First sentence: This little piggy went to the market.
Premise/Plot: A board book adaptation of the traditional nursery rhyme. Though these little piggies won't be eating any roast beef. I don't have a problem with adapting any of the lines. That's part of the fun of playing little piggies.
My thoughts: I enjoyed this one! I love the sturdiness of the pages. I think the pages will be easy for little hands to turn. All books--even board books--can be "loved" too much and wear out quickly. But this one seems a little better than some I've read and reviewed. I thought the illustrations were nice.
© 2015 Becky Laney of
Becky's Book Reviews
By: Jerry Beck, on 4/25/2015
Blog:
Cartoon Brew
(
Login to Add to MyJacketFlap
)
JacketFlap tags:
*Promote Video
,
Cartoon Brew Pick
,
2veinte
,
Argentina
,
Genocide
,
Pablo Gostanian
,
Add a tag
On its centennial, a tribute to the 1.5 million victims of the unrecognized Armenian Genocide.
By:
Heidi MacDonald
, on 4/25/2015
Blog:
PW -The Beat
(
Login to Add to MyJacketFlap
)
JacketFlap tags:
C2E2
,
Comics
,
Marvel
,
Top News
,
battleworld
,
Secret Wars
,
Secret Wars battleworld
,
Add a tag
The second of Marvel's Secret Wars themed panels focuses on "Battleworld". Senior Editor Nick Lowe was joined by James Robinson, Joshua Williamson, editors Jake Thomas and Jon Moisan, and Secret Wars writer Jonathan Hickman.
Nick Lowe kicked off the panel by asking Jonathan Hickman to describe the main "Secret Wars" book. The event is the culmination of his grand design for his Avengers run. Hickman also praised his artist Esad Ribic as Lowe showed off pages from issue #1. Pages which featured characters locked in battle. When Hickman was asked to talk about what happens in the opening, he answered by quipping, "Everybody Dies."
Next up Lowe showed the covers for Inhumans: Attilan Rising, which will be written by Charles Soule with art by John Timms. Soule himself described the book as "in-line with Casablanca." The cast of characters include an all-new version of the Hulk, Undead G-Man, a Ghost Rider, and Mega-Rad.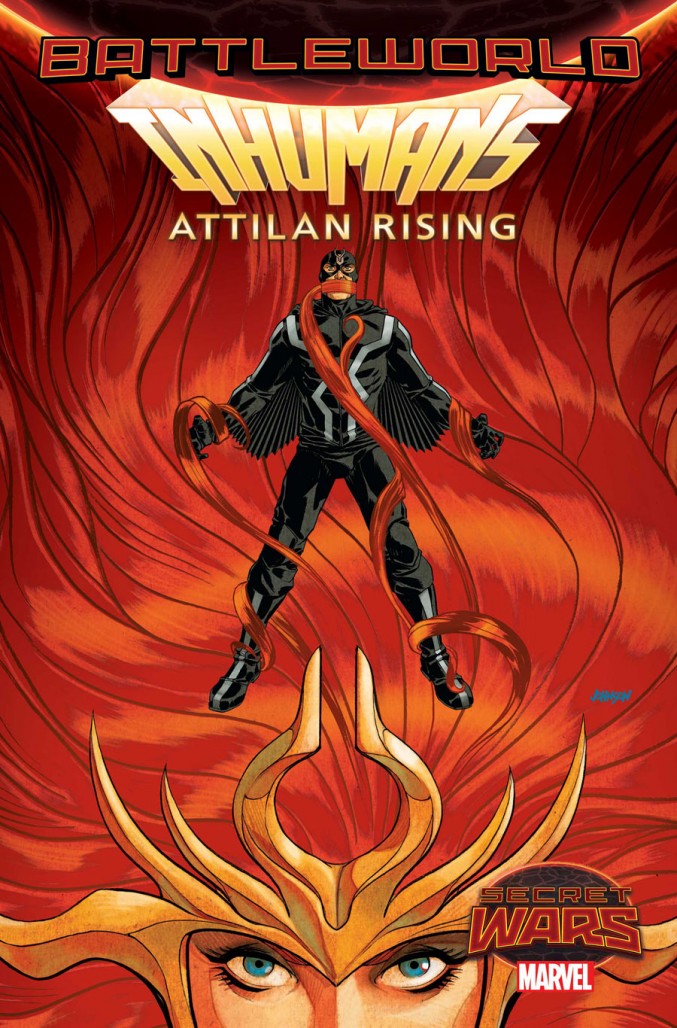 Lowe transitioned into Ultimate End, written by Bendis with art by Mark Bagley. Lowe talked about wanting to keep secrets about these series so the twist and turns will have the emotional impact intended. (Maybe don't start talking about post Secret Wars before the event begins)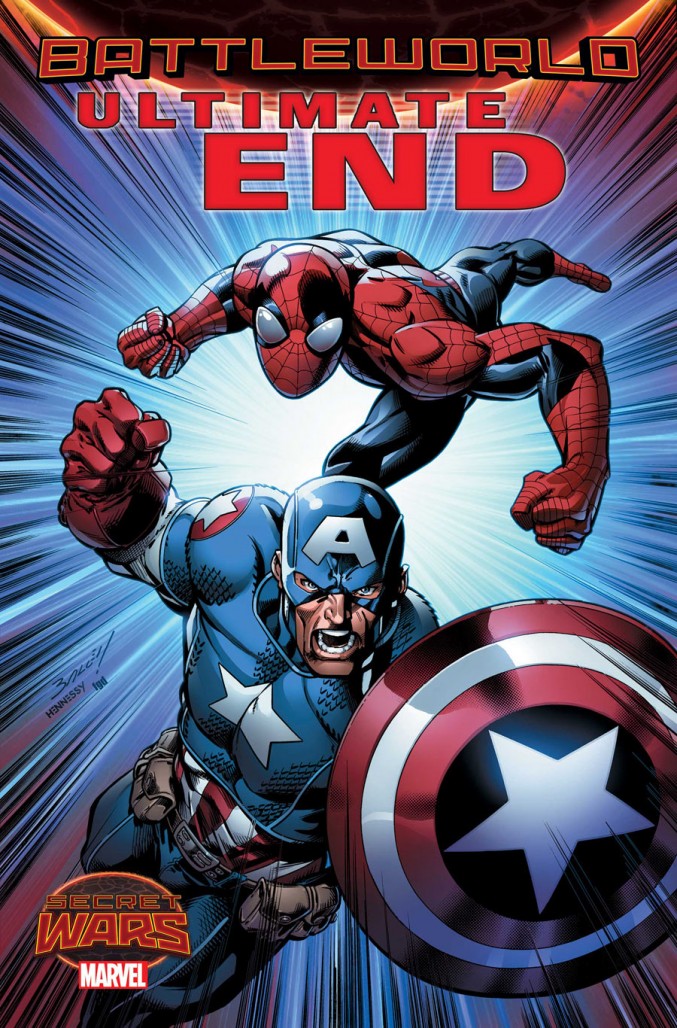 More details emerged about Master of Kung-fu from the team of Haden Blackman and Dalibor Talajic. It takes place mostly in K'un-Lun, but in this alternate version of the mystical city, everyone is a martial arts master. This part of Battleworld has several schools of martial arts taught by alternate versions of their characters; including aBlack Panther School, a Spider-Man School and a White Tiger dojo. An underground tournament between all determines who runs this part of Battleworld and Shang-chi will have to go up against his own father. It was mentioned that Talajic is a martial artist and has been waiting years to do a story like this.
In keeping with the fight theme the group talked about the Secret Wars: Battleworld anthology series. The first issue will feature a story by Williamson about a Doctor Strange-powered Punisher fighting a demonic Fantastic Four. Editor Moisan teased more outlandish battles such as Blade fighting Howard the Duck, Egyptian Silver Surfer will take on a crocodile version of Abomination, and old West Deadpool fightingDevil Dinosaur.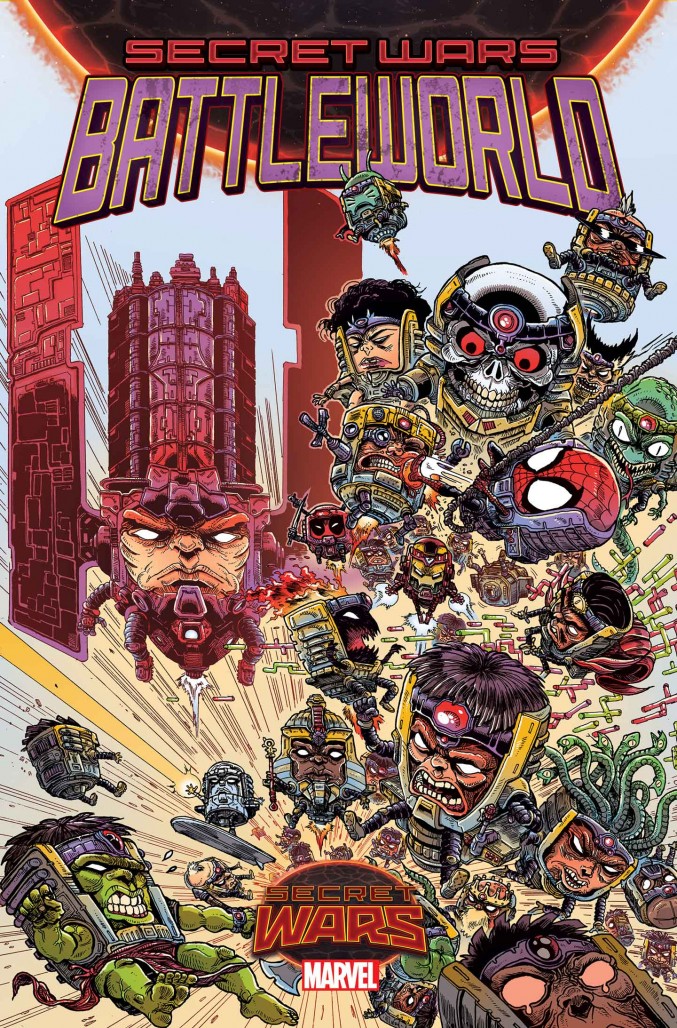 Williamson talked a little bit about Red Skull. His book has a version of the character that is supposed to be dead and his influence is still felt in the realm. A group of heroes will enter the deadlines to either verify the rumors or kill the Red Skull.
Next up was Secret Wars: Journal. The series will be a place for parts of Battleworld that don't have a series of their own. One of Kevin Wada's covers shows Kate Bishop from the '1602' universe where she is a Robin Hood-esque figure.
The group touched on Thors, but not much was given outside of a bit of art. It's the series most fans and critics are excited for, especially featuring the art of Chris Sprouse. (Can someone do a Too Many Cooks/Thors mashup?)
James Robinson talked about Marvel Zombies vs. Age of Ultron. The series is about a pocket of humanity in the middle of a war between the undead superheroes and Bendis version of elements of the Age of Ultron. Robinson described it as, "mayhem, violence and black comedy, but there's also these characters that love each other trying to survive."
As the presentation started to run long Lowe quickly ran through the other Marvel Zombies book, along with covers for Ghost Riders, and Star-Lord and Kitty Pryde.
Thomas talked about Siege by Kieron Gillen. The series will have three double-paged spreads drawn by guests artists. It's premise is about a part of the Battleworld called "the Shield" which is attacked by Ultrons and Zombies. The cast which includes versions of Scott Summers, America Chavez, Kang and the 1602 Kate Bishop are forced to be on the wall defending this part of the planet.
The presentation portion ended with the newly announced Secret Wars: Secret Love. It looks like Marvel is going to dive back into romance comics with the cover featuring Ms. Marvel and Robbie Reyes. Creators involved include Katie Cook, Michel Fiffe, Felipe Smith, Jeremy Whitley, and more.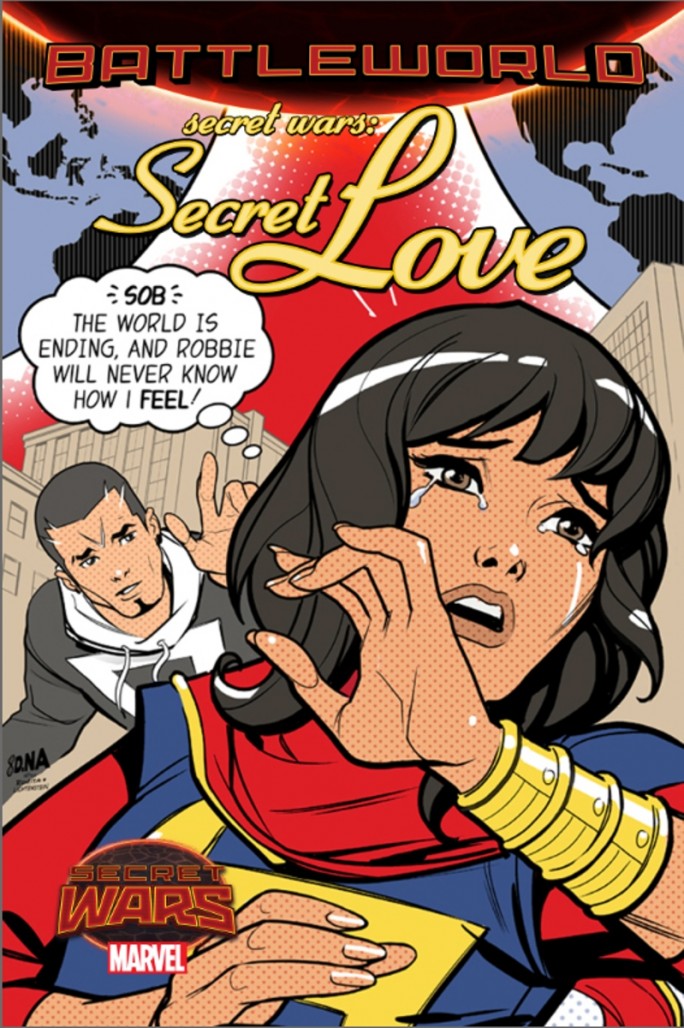 Strange that this title got a Battleworld banner. Now we hope one of these stories mimics the song "Love is a Battlefield" or when they did it on South Park.
Sunday morning, the third part of these Secret Wars panels wraps things up with "Warzones".
By:
Becky Laney
, on 4/25/2015
Blog:
Becky's Book Reviews
(
Login to Add to MyJacketFlap
)
JacketFlap tags:
2015
,
board books
,
books reviewed in 2015
,
concept books
,
review copy
,
Scholastic
,
Add a tag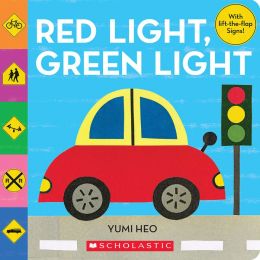 Board book: Red Light, Green Light. Yumi Heo. 2015. [June] Scholastic. 20 pages. [Source: Review copy]
First sentence: Let's take a ride. Here's your seat! We'll drive down this: One way street!
Premise/plot: Red Light, Green Light is a concept board book on driving and road signs. It's a lift-the-flap book. Each sign is a flap that can be lifted to reveal what it means.
My thoughts: It's okay. Not wow-worthy perhaps. It's obviously focusing more on the teaching elements, but, it does have a slight story to it. The family is on the way to the playground. Some of the rhymes work okay for me. Some don't. For example, "Slow down, car, the brakes go pop. Traffic light says red means stop."
© 2015 Becky Laney of
Becky's Book Reviews
By: tanita✿davis, on 4/25/2015
Blog:
Finding Wonderland: The WritingYA Weblog
(
Login to Add to MyJacketFlap
)
JacketFlap tags:
Comix
,
TSD
,
Add a tag
Click to embiggen. Happy Weekend! Enjoy The Forever Girls, a little tale by graphic novelist and cartoonist (& Melissa Wiley's beau) Scott Peterson, with artwork by artist and animator Monica Bruenjes. So much to love here: Snow White is seriously... Read the rest of this post
By:
Heidi MacDonald
, on 4/25/2015
Blog:
PW -The Beat
(
Login to Add to MyJacketFlap
)
JacketFlap tags:
C2E2
,
Comics
,
Marvel
,
Top News
,
Last Days Panel
,
Secret Wars
,
Add a tag
Marvel is bringing their Secret Wars to the second city all weekend at C2E2 2015. Kicking things off are the "Last Days" of the Marvel U. To talk about these events the publisher assembled Dan Slott, Ryan Stegman, Al Ewing, Dennis Hopeless, editor Jon Moisan, and Charles Soule.
The presentation kicked off with Ms. Marvel #16, which sees the return of artist and Kamala Khan's co-creator Adrian Alphona on art duties, with co-creator and series writer G. Willow Wilson leading the young Ms. Marvel into her biggest adventure yet of her very brief superhero career. We already know that the young Kamala is part of the All-New All-Different Avengers post Secret War, this arc could however change the direction of the character for the future.
Magneto #18 will begin his journey through his last days arc. The group gave few new details about what we'll see but did mention Sugarman will be a part of the arc. All the characters we've seen in the series will be uniquely affected by the incursion.
A sliver of Black Widow was shown as the group teased issue #19. Her story will feature the character in the present while still showing the beginnings of Natasha's story. We'll see one of her most horrible moments during her Red Room days. It looks to be a very emotional last days for Black Widow.
The Punisher's last days will see the character pushed to his end physically and emotionally. As the entire run will culminate in this story, the team is going all out with balls to the wall action. Now it seems that the series could be ending to make way for a possible new series written by CM Punk.
Al Ewing talked about Captain America and The Mighty Avengers. His goal is to break as many hearts as possible. As he talked about when the announcement was first made, his story will look at the world crumbling around the team. It's a story told from the readers point of view.
Loki: Agent of Asgard #14-15 will see scores settled between the gods of Asgard in a total war ignited by King Loki. The writer teased a returning element from the Simonson run that will blow readers minds.
Dan Slott in typical fashion played with the crowd by asking if everyone was worried about what will happen post Secret Wars. Jokingly, according to him it's all "GONE!" He'll continue working with amazing team of Mike and Laura Allred on the last days of Silver Surfer. He did drop a few tidbits about the upcoming arc. Surfer will survie in the void and be given the power to recreate the universe. This arc will examine the question about what to do with infinite power.
The group announced Ant-Man: Last Days #1, which goes on sale in August. Scott Lang will be teaming up with a golden age hero we've already seen but don't know the identity of. Last Days of Ant-Man will not be a new series but instead just a one-shot with the creative team of Nick Spencer and Ramon Rosanas.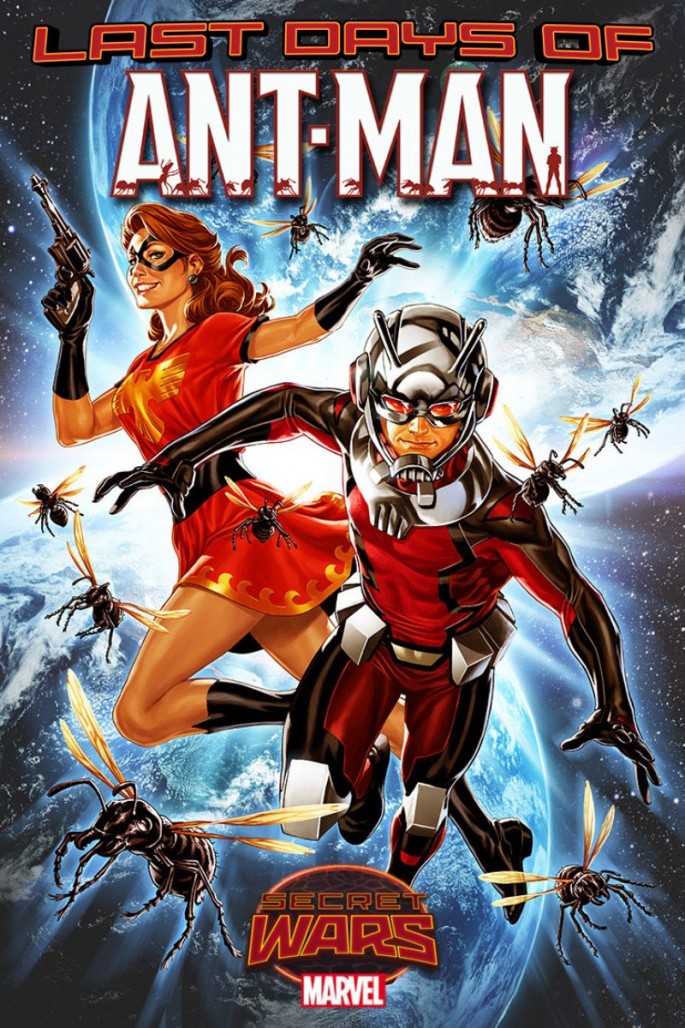 You can watch all the C2E2 goodness through lifestream on their website here. 
By:
Sarah McIntyre
, on 4/25/2015
Blog:
Sarah McIntyre
(
Login to Add to MyJacketFlap
)
JacketFlap tags:
seawigs
,
Add a tag
My friend Laurence wanted some company doing his homework today and I amused myself having a little chat with him about copyright. ...Actually, his © is completely valid! He doesn't have to register copyright anywhere to make the picture completely his. When he draws a picture, he immediately has the copyright. (Whether he can defend it, is another thing.) We got the leafy layout idea and adapted his poster from the cover of Gary Northfield's comic book, Gary's Garden.




One of the most exciting things about my job is seeing people who've been inspired by my books, using them as a jumping-off point to creating their own pieces of artwork, costumes and stories. Look, it's a Sea Monkey jumper! And the chap who's wearing it also named Oliver! Big thanks to his aunt, who designed and knitted it and sent the photo to my co-author Philip Reeve and me!




Check out this Oliver and the Seawigs bedroom wall mural, tweeted by @Brazgosuperstar. Pretty amazing!




Hurrah! A Lego Rambling Isle, wearing a Seawig, tweeted by Andy Lacey.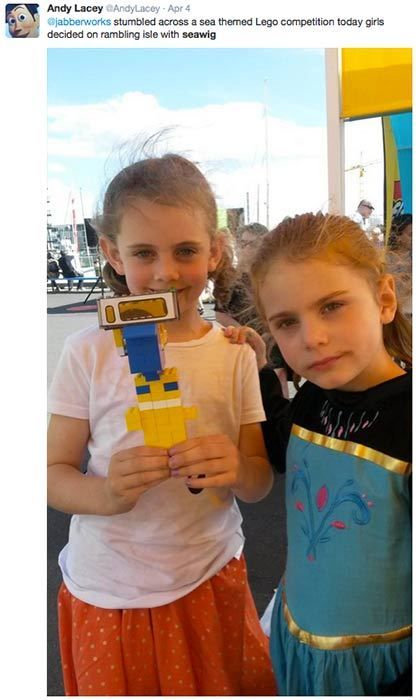 When the Children's Book Club met up at Booka Bookshop in Shropshire, they made their own Seawigs! (If you'd like a Seawig template, you can download one here off my website.)




And one more, a photo of a very realistic-looking Seawig, tweeted by Gareth P Jones.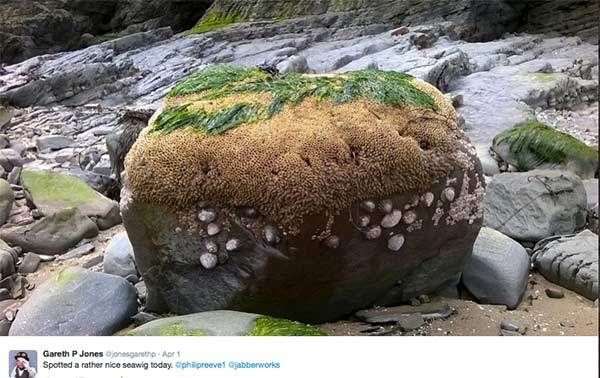 By: Terry Hooper-Scharf, on 4/25/2015
Blog:
ComicBitsOnline.com
(
Login to Add to MyJacketFlap
)
JacketFlap tags:
Add a tag
Due to a few problems I took today off from drawing or doing much other than the previously posted item about bagging or not bagging my zines. But I did take the opportunity to catalogue my comic magazines like
Alter Ego
.
I had
Alter Ego
volume 2 on Standing Order (SO) at Forbidden Planet but after one excuse after another it was not until I told the then manager that I'd contact the guy who owned FP (I'd only met him twice but it was a good bluff -hey, I worked in the comics industry) my SO started with No.9. I'm not kidding.
Thereafter it was an on-off fight to get the damn magazine. All the usual "distributors fault" and other excuses. "I have it on order so we need to wait for it to arrive". Next week I asked and the man checked but no issue was on order.
The same happened with
Back Issue, Comic Book Artist
. Now, remember these were ALL on SO and I was literally pestering every week to make sure I got a copy though I did get really **** off when I was told my copies were sold to someone who walked in and asked about the titles. Not even a regular customer.
The list tells the story so:
Comicology
#3 #4
Comic Book Artist
9 12 13 14 15 16 17 18 19 20 21 22 23 24 25 (last issue and the fight to get #23-25 was near titanic!)
Back Issue
2 3 4 5 6 8 9 12 13 14 17 18 19 21 23 25 26 27 29 32 34 38 40 41 42 43 44 45 46 48 49 50 51 52 53 54 55 57 58 59 60 62 64
Alter Ego
9 10 11 12 14 15 17 18 19 20 21 22 23 24 25 26 27 29 30 31 32 33 34 35 36 37 38 39 40 41 42 43 44 45 46 47 48 49 50 51 52 53 54 55 56 57 58 59 60 62 63 64 65 66 67 68 69 70 71 72 73 74 75 76 77 78 80 81 82 83 84 85 86 89 90 91 92 95 96 97 98 99 100 101 102 103 104 105 106 107 108 109 110 111 113 114 115 116 117
Now those are some weird gaps and I only found out later that friends of people working in the stores (yes, we are talking three different stores each promising that they "will guarantee" that I never miss an issue again!) got my copies because something in it interested them. Now that really does make a mockery of the prominent sign:
"Standing Order -NEVER miss an issue again!"
Horse shit with flies to that.
So why did I stop at
Alter Ego
117? Well, I could no longer stomach what Marvel and DC were churning out so stopped buying. But at least I'd get my mags. No. What? Well, it was made
very clear
to me that if I was no longer going to have a comics SO then they could not guarantee my magazine SO. WHY? All I got was a shrug.
Seriously, comic shops want to survive then they need to treat their customers with respect.
These are a lot of issues and I doubt I'll ever get the ones missing which is a pity as I loved
Alter Ego
in particular.
But one thing I did think while going through these: if anything the UK needs a Platinum and Golden Ages publication. Never know, it might happen!
By: Jerry Beck, on 4/25/2015
Blog:
Cartoon Brew
(
Login to Add to MyJacketFlap
)
JacketFlap tags:
Feature Film
,
Stop Motion
,
aardman
,
Aardman Animations
,
Mark BUrton
,
Richard Starzak
,
Shaun the Sheep
,
Add a tag
The stop-motion film will arrive in the U.S. in August.
By: Koosje Koene, on 4/25/2015
Blog:
Koosje Koene
(
Login to Add to MyJacketFlap
)
JacketFlap tags:
cooking
,
draw tip
,
journal
,
justdrawit
,
kitchen
,
pen
,
Add a tag
Don't you just hate doing the dishes? Here's a tip! Drawing it is the best excuse to leave them!
By:
Mattias Adolfsson
, on 4/25/2015
Blog:
Mattias
(
Login to Add to MyJacketFlap
)
JacketFlap tags:
Add a tag
By: Margot Justes, on 4/25/2015
Barcelona is filled with amazing and whimsical architecture, Gaudi's work is a prime example,
the people possess an unbound zest for life, there are world class museums, and of course delicious food.
Barcelona and the surrounding area is Catalan country, and to this day they are extremely proud of their Catalonian heritage, and many Catalonian flags could be seen flying from apartment windows in Barcelona. There was even a political movement for the Catalans to secede from Spain.
A short hop away is the Montserrat Monastery. It is one of those places not to be missed. High in the mountains, about 38 kilometers from Barcelona, an hour by bus, and the ride itself is quite an adventure, slinking along a narrow street with twisting and tight curves that seem never ending.
There are a few ways to reach Montserrat, car, private limo, or bus. If you take the train,
you will need to take the cable car or rack railway to get to the top.
I decided it was best to leave the driving to the professionals and took a bus. Driving to Montserrat is not for the faint of heart, nor for that matter, riding in a bus.
At the highest point, about 1,236 meters above sea level, the view below is breathtaking. With steep rock formations the monastery is nestled beautifully into the mountains. The setting is glorious, and the views stunning wherever you turn.
There are quiet and peaceful garden areas, and many paths that allow for that
perfect silent, and contemplative walk. That being said, it is a huge draw, both for tourists and locals alike. It is considered a place of pilgrimage, that is what I was told by a local visiting couple.
The monastery began about 1025, the rich archeological history dates back to 3,000 years BC. The credit for the monastery's existence is given to Abbot Oliba, a powerful figure in Romanesque Catalonia.
An aristocrat, elected Abbot of Ripoll, and he along with a group of monks decided to build the monastery next to the chapel of Saint Mary.
Beside the church, the monastery, a library, the meandering roads, beautiful gardens, and artistic treasures, there is also a hotel. I plan to go back and spend a night or two, the few hours I was there just wet my appetite for more.
At the time of my visit on a Sunday, the church was packed, it didn't help that a noon performance by the boys choir happened at the same time. You could not squeeze in, it was truly filled to capacity and beyond. Packed solid-even a well oiled sardine would have had a problem. I got a glimpse of the ornate church, but couldn't handle all the humanity, it took me fifteen minutes from the very back of the church to get out the door, and into fresh air.
There were a few tents set up on the main road, and local artisans sold their wares, the most prominent items displayed were the local delicacies, various cheeses, honey, hams and fig cakes. I can vouch for the local hams, cheeses and fig cakes. Positively yummy.
I just touched on Montserrat, if you find yourself in Barcelona, Montserrat is not to be missed. I still hope to spend a night-I'll need to go back and do more research, my next hotel book is set in Barcelona.
Cheers,
Blood Art
A Hotel in Paris
A Hotel in Bath
A Fire Within
and coming in June A Hotel in Venice
www.mjustes.com
By:
Becky Laney
, on 4/25/2015
Blog:
Becky's Book Reviews
(
Login to Add to MyJacketFlap
)
JacketFlap tags:
2015
,
2015 Cybils-eligible
,
books reviewed in 2015
,
picture books
,
review copy
,
Scholastic
,
Add a tag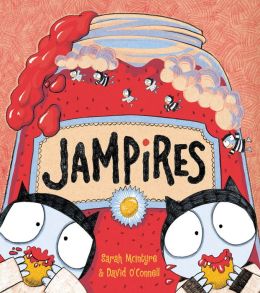 Jampires. Sarah McIntyre. Illustrated by David O'Connell. 2015. [June] Scholastic. 32 pages. [Source: Review copy]
First sentence: "There's no jam!" yelled Sam. "This doughnut's all wrinkly! This doughnut is jamless and dry! Someone got to this doughnut before me and sucked out the jamminess! Why?"
Premise/plot: Sam, the hero, gets mad when his doughnut is missing jam. He decides to set a trap in his room to catch the jam thieves. What he didn't expect was that the thief was actually thieves. Jampires. Creatures that suck out jam with their fangs. The jampires take Sam on an adventure, they take him home to where they live, a place with plenty of jam to be had every day.
My thoughts: I didn't like this one. Of course, you may feel differently. You may love the play on words--jampires instead of vampires. But I thought the book was bizarre and creepy. Besides the weird story, the text itself seems awkward.
Text: 2 out of 5
Illustrations: 2 out of 5
Total: 4 out of 10
© 2015 Becky Laney of
Becky's Book Reviews
By:
Heidi MacDonald
, on 4/25/2015
Blog:
PW -The Beat
(
Login to Add to MyJacketFlap
)
JacketFlap tags:
Alan Moore
,
Books
,
Comics
,
Controversy!
,
Crowdfunding
,
Grant Morrison
,
Interviews
,
Kickstarter
,
Top News
,
AARGH
,
Bloomsbury
,
British Library
,
Dobby the House Elf
,
Flann O'Brien
,
from hell
,
Golliwogg
,
gorse
,
Horse Hospital
,
Iain Sinclair
,
Jack the Ripper
,
John Clare
,
Joyce Brabner
,
Kirsten Norrie
,
London
,
Lost Girls
,
Mad Love
,
Melinda Gebbie
,
Michael Moorcock
,
Patricia Cornwell
,
Ramsey Campbell
,
Richard Coles
,
Robin Ince
,
Second Avenue Caper
,
steve moore
,
Swandown
,
The Cardinal and the Corpse
,
The Communards
,
The Infinite Monkey Cage
,
Toby Jones
,
Walter Sickert
,
Add a tag
Previous parts of this interview: Part I – Steve Moore, River of Ghosts, The Show, and Twinkle Twinkle Little Star, and Part II – Punk Rock, Crossed, and Providence. Now read on…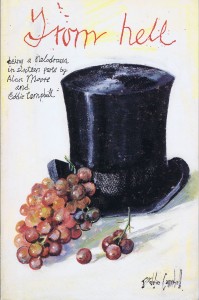 PÓM: A few other things… Yes, now. Have you been following any of the latest revelations on Jack the Ripper? Do you keep an eye on that?
AM: [Laughs] No, because it's all going to be bollocks.
PÓM: Oh yeah.
AM: Alright, I stand to be corrected, but what are the latest revelations on Jack the Ripper?
PÓM: Somebody claimed to have bought a scarf, a very expensive scarf…1
AM: Oh yeah, I read about that. And obviously at the time, that's bollocks…
PÓM: Oh yes, absolutely and complete bollocks!
AM: And they've since proved that it's bollocks – I think that they've just said that, no, there's no connection at all between Catherine Eddowes and the stain on this scarf.
PÓM: I do remember thinking that they seemed to be in possession of an awful lot of information about DNA and all of that that seemed… unlikely.
AM: Unlikely at the time, yes. No no, that – these are always going to be non-starters. Alright, unless there is some brilliant piece of evidence waiting to be discovered that – how likely is that?
PÓM: I know. I just wondered if – 'cause you did From Hell, I presume you still have some interest in the subject.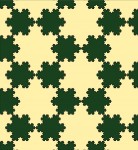 AM: Well, with From Hell, at the end of it, in The Dance of the Gull Catchers, there is that statement about – Look, how long can this go on? About Koch's Snowflake2, about the increasing trivia applied around the crinkly edges of this case, but the area of the case cannot exceed the original events and consequently, new books about Jack the Ripper, they're less about Jack the Ripper than they are about keeping the Jack the Ripper industry going, because it's been quite lucrative for a few years, you know? And I honestly think that that is the truth.
So, no, I tend to be dismissive of – every four or five years there will be 'At last, the final truth!' And it never is. And it's very often preposterous, or a deliberate hoax. Or you'll get, say, Patricia Cornwell, with her vandalisation of a Walter Sickert painting in the ridiculous hope that she could match the DNA to that on the letters received the police, which were not from the killer anyway.3
PÓM: I remember when the documentary was on the telly, I saw it was coming up…
AM: Yeah, I saw that, and I saw at the end of it, all she'd got was some footage of Walter Sickert being led out, probably in his eighties, to be filmed in a garden somewhere, and she said, 'Yes, look at those eyes – pure evil.' Ignorant woman.
PÓM: I remember she said something like 'I knew as soon as I looked into his eyes that it had to be him.'4 And this is a woman who…
AM: That was all the evidence that she'd got, and – the thing is, that Patricia Cornwell is apparently supposed to be an actual real-life pathologist…5
PÓM: Yeah!
AM: …apparently cases in the American legal system have presumably depended upon her evidence – I hope she was doing a little bit more than looking in people's eyes.
PÓM: I know! I have never been so disappointed with something on the television – in my life! Because I expected – because of who she was, and what she was, I expected this was going to be really incisive and good and interesting.
AM: I had read some of her books, so perhaps I wasn't expecting quite as much as you were.
PÓM: [Laughs] Fair enough!
AM: I read a few of her books with the beautiful woman pathologist…6
PÓM: Oh, I know who you mean…
AM: …who somehow always ends up at the centre of every case. She's always the one that the serial killer gets an obsession with, even though there's no way in the real world that he would ever know who she was. She's always smarter than the police. And then when I found out that Patricia Cornwell was herself a pathologist at some point I thought, 'Yes, I think I can see where this is going.'
PÓM: Yes. It did seem as well the whole Jack the Ripper thing was kind of because her father had left home when she was five, and there were some elements of that in there, which is where it started getting strange.
AM: Yeah, well a lot of these people who get obsessed with true crimes, they're – sometimes, they can be working out something in their own psychology, rather than anything to actually do with the crime that they are officially dealing with. I haven't really taken a great deal of interest in Jack the Ripper since finishing From Hell – probably more in Psychogeography and London.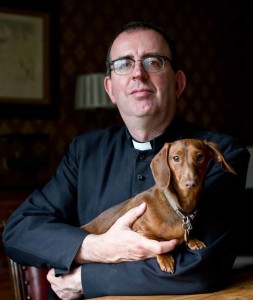 PÓM: I must say, we've been spending a fair bit of time in London, Deirdre and myself. We were over there last week. We went to see – do you know the Reverend Richard Coles?7
AM: Oh yes, I met him once. I met him with Robin Ince.8
PÓM: Yeah. He was doing a thing in the British Library, he was doing – because he's got a first volume of his autobiography out – another good Northampton lad!
AM: Is he? Yeah, he's from out in the outskirts, I think he's from one of the villages.
PÓM: That's where he's being a Rev these days. A thoroughly lovely man.
AM: He seemed really nice when I met him, and of course he was great in The Communards.
PÓM: Well, he was. He was. Not a great dancer, but a charming human being. But, yeah, I've recently joined the British Library, which is completely fantastic.9 I'm doing research into Flann O'Brien, and The Cardinal and the Corpse, all of that.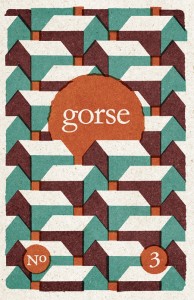 [There's actually a part of the interview missing here, because I felt it was so far removed from having even the slightest relevance to this particular site that it was best elsewhere. It concerns English writer Iain Sinclair's 1992 documentary film The Cardinal and the Corpse, which almost no-one has seen besides Alan and myself. It also peripherally concerns Irish writer Flann O'Brien, about whom I have been spending quite a lot of time reading and researching of late. The interview is here, on the gorse website. By absolutely no coincidence whatsoever I have an essay on Flann O'Brien in gorse #3, entitled The Cardinal & the Corpse, A Flanntasy in Several Parts, which I commend to you all. End of outrageous and gratuitious self-promotion.]
PÓM: Are you doing some series of things with Joyce Brabner?10
AM: There is a work that I'm – I'm doing a work with Joyce, but I'm starting that at the moment. I can't tell you much about that, because it will be sometime this year – I'm more or less starting work on it now, over the next – probably over the weekend, and it's likely to be something to do with identity, but I really can't tell you much more than that – I've got my ideas, but they're not really well formed enough yet, but later in the year I'll be able to fill you in more with that.
PÓM
: Ok, cool. Sure, we'll talk again, undoubtedly. And I think I'm going to wrap it up – I must say, when you're talking about doing
Swandown
, and things like that – that's the thing with the pedalo, isn't it? With the swan-shaped pedalo?
11
AM: That is one of the sweetest films I've ever seen, and not just because I'm in it. In fact, I think that my contribution is one of the more negligible aspects of it. It's English poetry. It shows you that there is no landscape that cannot be made poetic with the addition of a big plastic swan. And in fact, since then I also earlier this year – no, last year, last year. Spring or Summer, I went and filmed a bit with Andrew and Iain for their next project, which is called By Our Selves, and it's all about John Clare12, and it's got Andrew mucking about dressed as a straw bear, and recreating John Clare's limping walk from Epping Forest and Matthew Arnold's mental asylum back to Helpston in Northampton. Eighty miles or something, where he was eating grass and hallucinating. Yeah, so Andrew and Iain came up to Northampton, I spent a lovely afternoon sitting pretending to be a version of John Clare. They've got Toby Jones
13
doing all the heavy lifting in terms of being John Clare, so that should be – 'cause he's an incredible actor…
PÓM
: What I was going to say about that is, you do really seem to be having far too much fun, still – you're doing everything you want to.
AM: That stuff is the best. Things like that that just come out of the blue. I still enjoy me comics work, I still enjoy the ordinary writing that I do, but – the little surprising things like that, that I've not done before, that are a great afternoon out, seeing lovely people, and knowing that it's going to end up as a really poetic cinematic document, yeah, I am having a lot of fun with that, when it happens. It's irregular, but charming when it does.
PÓM: Well, good. And I think that's it. Is there anything that you're doing that I should know about that I don't know about?
AM: Yeah, probably. Whether I actually consciously know about it, is the big question. There must be some – did you hear about The Dying Fire?
PÓM: Nooooo…
AM: This was a book that I've just brought out from Mad Love Publishing, it's the collected poetry of Dominic Allard…14
PÓM: Yes, I did, because I have a copy inside. Yes, of course.
AM: Ah right. With the big introduction. That seems to be going quite well, and Dominic seems a bit stupefied by the sudden exposure – mind you, Dominic seems a bit stupefied by most things, it has to be said. But, no, that was really good, taking the books down to him, and giving him a load of copies, so there's that. What else have I been doing? I've been reading through Steve Moore's journals, which I collected from his house, and that's bittersweet. There's some incredible information in there, things that I'd forgotten about. Just day-by-day stuff in Steve's life, but he was meticulous about listing it all.
PÓM: Do you do that? Do you keep a journal, or anything like that?
AM: No I don't. And Steve's journals are part of the reason why I don't.
PÓM: Oh yes, one other thing I did want to ask you. Do you remember our last interview? That was the written interview.15
AM: Yes…?
PÓM: Did you ever get any feedback on that, or did you hear – there was a certain amount of…
AM: I don't know if I did or not, Pádraig. Where would I have got it from?
AM: Well, indeed. There was huge amounts of hoopla on the internet about it, which – it was interesting. It was…
AM: Oh, that was the stuff about the Golliwogg?
PÓM: Yes, the Golliwogg, and…
AM: Yes, that was when I wrote my – Yes, I remember – that was when I spent the Christmas writing the rejoinder?
PÓM: Yes, yes!
AM: Yeah, I didn't hear much about it, to tell the truth, once I'd got it out of me system, and I thought that the issues had been addressed, I just kind of let it go. Why, did – you say that there was a lot of furore?
PÓM: Oh, I had – when I put it up on my blog, and it just spread out everywhere, and I was getting hundreds of comments and replies. It was all quite fascinating – it genuinely didn't bother me in any way, shape, or form. The people who said rude things, I just deleted them, because people have strange notions about what the right to free speech actually means. And it was just – it was interesting – it was great. It was a fantastic piece of, em…
AM: Invective?
PÓM: I was going to say a fantastic piece of writing, of a thing to put out there, and I was delighted to be in that way involved with it but, yes, a fine piece of invective, and all the better for it.
AM: I was talking with somebody who read it, and he was saying 'I think you might have revived a kind of literary form, that has not been really practiced since the eighteenth century,' the really crushing, bitter, stinging satire, if you will. Yeah, I was quite pleased with it. After doing it, I tended to put it out of me mind.
PÓM: No harm in that. I must say…
AM: Was any of the response positive?
PÓM: Oh yeah! Oh Christ, yes! Plenty of it. There was lots of people who are just happy to do down anything that turns up, but there was a lot of people that thought you gave someone a kickin' that deserved a kickin'.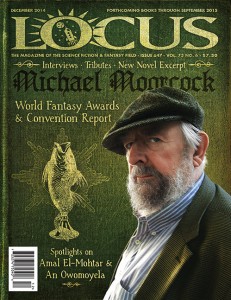 AM: Well, that's good. I had a very nice comment from Ramsey Campbell16. He said, pretty much, 'Right on, Alan,' so that was nice. I did see, in the Michael Moorcock issue of Locus that came out recently that Mike, he was talking a little bit about Grant Morrison as well, just because he was asked some question about why he doesn't encourage other people to do Jerry Cornelius stories these days, which apparently does rather connect up with some of Morrison's work. Ah, I thought it needed saying, and it was better out than in.
PÓM: Well, indeed. Sure, it's all part of life's rich pageant.
AM: Absolutely.
AM: Mel's fine – oh, yes, that's something that I should probably tell you about. Mel is preparing for her first spectacular exhibition. This will be at the Horse Hospital in Bloomsbury.
PÓM: Oh, I love Bloomsbury, I have to say. I could live in Bloomsbury.18
AM: Have you been to the Horse Hospital?
PÓM: I don't think we have, no.
AM: Well, I did a gig there with the lovely Kirsten Norrie19 – which also, she appears with me in that, By Our Selves, the John Clare film. But I did a gig where Kirstin was singing, and I was reading a part of Jerusalem, so I went to the Horse Hospital, and in there, I knew that our gig was underground, in the basement, and I thought, 'Oh, this is a bit weird, there's no stairs, there's just these ramps.' And then I thought 'Horse Hospital!'
But it's a lovely little space, and I believe that Mel will be doing her exhibition there on April the 10th, and there's tons and tons of drawings, there's seven or eight of her paintings, and I believe that there might be some bronze busts that she's done of the three main characters from Lost Girls. So, if anyone reading this happens to be in the Bloomsbury area around April 10th this year, they could do worse than to drop in.
PÓM: I shall be sure to tell people.
AM: OK, you take care, like I say, Pádraig, and love to Deirdre – and that's what Mel's doing, she's preparing that.
———————————————————————————————————-
FOOTNOTES:
1On the 6th of September 2014 the Daily Mail carried a story that DNA evidence had been found on a scarf – allegedly once the property of Catherine Eddowes, the fourth of the five 'canonical' victims of the serial killer known as Jack the Ripper, whose exploits set Victorian London into a frenzy of speculation which has still not died away – which proved that the killer was actually Polish immigrant Aaron Kosminski. The story is here, although you really also need to read the refutation, here, as well.
2I refer you to the Koch's Snowflake page on Wikipedia, because they explain it better than I ever will.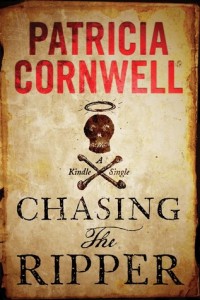 3Crime writer Patricia Cornwell wrote a book called Portrait of a Killer — Jack the Ripper: Case Closed, published in 2002, where she claimed that British painter Walter Sickert was the Whitechapel murderer, and went to extraordinary – and, frankly, borderline insane – lengths to prove it, including supposedly cutting up one of his paintings in an effort to find clues of some kind. There's an excellent piece about it on the Casebook: Jack the Ripper website, here. In the meantime, Cornell has written more on the subject, a Kindle Single called Chasing the Ripper, published in 2014, and available here, if you're feeling brave.
4 Yes, she really says something almost exactly like that. Here's the relevant bit from the documentary, courtesy of those nice people over at YouTube.
5Patricia Cornwell isn't actually a 'real-life pathologist,' although she did work in the Office of the Chief Medical Examiner of Virginia for six years, first as a technical writer and then as a computer analyst, so had at least some input into their findings, one imagines.
6Dr Kay Scarpetta, the protagonist of twenty-two Cornwell novels thus far.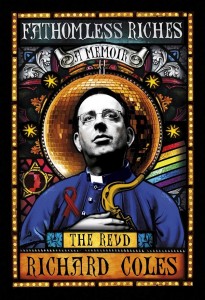 7The Reverend Richard Coles is a Church of England priest, currently working as the parish priest of St Mary the Virgin, Finedon, Northampton, in the Diocese of Peterborough. He was previously in The Communards with Jimmy Somerville, formerly of The Bronsky Beat, with whom Coles had also occasionally played. He is openly gay and lives with his civil partner in a celibate relationship, although they have four dachshunds, and he remains the only vicar in Britain to have had a Number 1 hit single. Above and beyond all that, he does regular appearances on the television and radio in Britain, and is a thoroughly lovely human being. He did an appearance in the British Library on Friday the 20th of February 2015 to publicise his autobiography, Fathomless Riches, which I attended with my wife Deirdre.
8Robin Ince is an English Science-Comedian and renowned Atheist. He is involved with the occasionally annual Christmastime event Nine Lessons and Carols for Godless People, as well as the radio programme The Infinite Monkey Cage, both of which have included Alan Moore on occasion.
9If you think I'm being overly mean in describing the Rev. Coles as a bad dancer, I suggest you go look at this video of The Communards performing Never Can Say Goodbye
, and make up your own mind.
The British Library
, by the way, is one of my favourite places in the whole wide world. If Heaven is not very like it, I shall be very disappointed.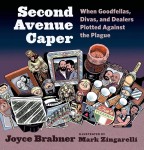 10Joyce Brabner is an American comics writer, and the widow of the late Harvey Pekar. She has collaborated with Moore before, on Brought to Light, and on Real War Comics. Most recently she has written the non-fiction graphic novel Second Avenue Caper: When Goodfellas, Divas, and Dealers Plotted Against the Plague, about the real-life efforts of people caught up in the AIDS epidemic in New York in the early 1980s. It's good stuff, and you all need to go read it.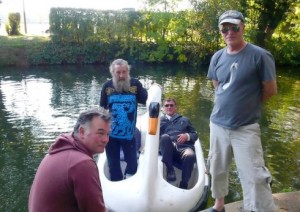 11Swandown is a 2012 film in which Andrew Kötting and Iain Sinclair pedaled a swan pedalo down the Thames from the Hastings, on the sea, to Hackney, in London, occasionally joined by people like Alan Moore and comedian Stewart Lee. Look, I promise I'm not making this stuff up, and there's a photograph to prove it. From left to right we have Lee, Moore, Kötting, and Sinclair.
12John Clare, known as The Northamptonshire Peasant Poet, was the writer of collections like Poems Descriptive of Rural Life and Scenery and Village Minstrel and other Poems. The film By Our Selves is in part based on Iain Sinclair's book The Edge of the Orison: In the Traces of John Clare's 'Journey Out of Essex'. More information can be found on the By Our Selves Kickstarter page. It was successfully funded, and the project is ongoing.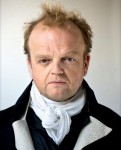 13Toby Jones is an excellent English actor. Amongst other things, he has done the voice of Dobby the House Elf in the Harry Potter films, appeared in an episode of Doctor Who, and had parts in films like Captain America: The First Avenger, Tinker Tailor Soldier Spy, The Hunger Games, and Captain America: The Winter Soldier, and many many more.
14Mad Love Publishing is a publishing company Moore set up in the late 1980s with others, originally to publish AARGH (Artists Against Rampant Government Homophobia), and subsequently the first two issues of Big Numbers. The company had a long hiatus, but has reappeared recently as the publisher of Dodgem Logic, and most recently of The Dying Fire, a poetry collection by Moore's old school friend Dominic Allard. The Northants Herald & Post reported on the story here.
15The interview referred to hear, which Alan doesn't at first realise I'm referring to, is the infamous Last Alan Moore Interview?, which some of you may have already read, or at least read about. It has, to date, a bit over 100,000 views, and 350 replies, which is not too bad for the first post on a new blog!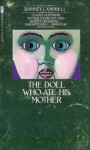 16Ramsey Campbell is an English horror writer who has written numerous novels, including The Doll Who Ate His Mother, The Face That Must Die, and The House on Nazareth Hill, as well as numerous collections of short stories. He has a list of awards for his work as long as your arm, including the British Fantasy Award, the World Fantasy Award, the International Horror Guild Award, and the Bram Stoker Award.
17Melinda Gebbie is an American comics creator, now settled with her husband, Alan Moore, in the heart of England. They've worked together on various things, including Lost Girls.
18Bloomsbury is the bit of London that contains the British Museum, occasional headquarters of the Victorian version of the League of Extraordinary Gentlemen, and the British Library. It's full of culturally wonderfully stuff, parks with friendly squirrels in, and lots of Blue Plaques to all sorts of writers and the like. I recommend you go visit, at least once in your life. The exhibition in the Horse Hospital runs until the 9th of May, so there's time to see it yet.
19Kirsten Norrie is a Scottish artist and musician, and a member of Wolf in the Winter, an international performance collective.
Display Comments
By:
Becky Laney
, on 4/25/2015
Blog:
Becky's Book Reviews
(
Login to Add to MyJacketFlap
)
JacketFlap tags:
2015
,
2015 Cybils-eligible
,
books reviewed in 2015
,
picture books
,
review copy
,
Scholastic
,
Add a tag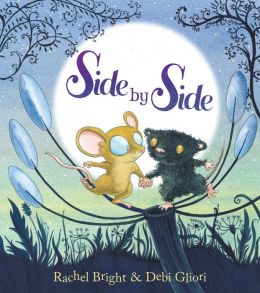 Side by Side. Rachel Bright. Illustrated by Debi Gliori. 2015. [April] Scholastic. 32 pages. [Source: Review copy]
First sentence: Deep in the heart of Wintermouse Wood, down in the grass where the autumn trees stood, lived all kinds of creatures--some big and some small--some spiky, some furry, some short, and some tall.
Premise/plot: Mousling is the smallest mouse in her family. She's a lonely mouse who longs for a friend. While many answer her call and offer friendship, only one creature--a small black vole--is the exact, perfect forever-and-ever friend. These two make quite a pair.
My thoughts: The story is a good one. Sometimes the text is quite lovely. "And now, side by side, they heard the same tune, so they sang to the stars and they danced to the moon." Overall, I liked this one.
Text: 4 out of 5
Illustrations: 3 out of 5
Total: 7 out of 10
© 2015 Becky Laney of
Becky's Book Reviews
By:
Molly Blaisdell
, on 4/25/2015
Blog:
Seize the Day
(
Login to Add to MyJacketFlap
)
JacketFlap tags:
plumb crazy
,
standardized testing rant
,
transcendent
,
Add a tag
Hi, folks, this month I'm focusing the blog on the writing journey of PLUMB CRAZY. I'm calling this series: PLUMB CRAZY Journey -- The Good, The Bad, The Ugly and The Transcendent. I'm going to dig deep into the generation of my novel and dynamics of that creative journey. Be aware that I write as Cece Barlow for this work. It will be released in the beginning of May. :)

Oh, I have been waiting to write this post. PLUMB CRAZY was a unparalleled experience for me. The things I learned are difficult to describe and that's why I call this part of the journey transcendent. These things are mystical, divine, and beyond all of my human experience.
The first thing is about knowing your main character.Yes, I did the charts, the character surveys, the letters from the character, the picture studies, the personality tests, all kinds of stuff. All of it was necessary but not the most needful thing. The most needful thing was to give Elva Presley leeway. I let go of what I expected her to do, and you know what, she surprised me. She fought with me me. She told me things about life that astounded me. She was her own person. The process of giving her the lead was a little like pulling bricks out of a wall until the whole thing tumbled down. I found out what it means to follow a free spirit while writing this book. I think my spirit is freer because of it.
The next thing has to do with pacing. Me, I want to write chapters about how to set a plumbing fixture and how much it makes your shoulders hurt when you work so hard. Pages and pages of that. I wanted to weave a plumbing manual into my book. Yes, I had to cut a few chapters. I might post one on the
Cece Barlow blog
so you can groan with me. What a waste of writing time. "The devil is in the details, but so is salvation." Admiral Hyman Rickover said this and had something there. I found my best book by clinging to the details that move the story forward and letting go of the rest of it.
The last thing that came to me because of PLUMB CRAZY has no name. It's something about the great meaning in friendships, the quirkiness of love, and the unusual gifts that life presents us with when we are not expecting them. Perhaps we find the best things off the beaten path. Do you know what it feels like when you end up lost somewhere and then stumble onto something that you would not have sought in a million years, but it is just the thing you need? PLUMB CRAZY gave me that. It was unexpected. It was out of mainstream. It was transcendent. This thing wrapped around my heart, my mind, my soul, I am so blessed because of it. I hope PLUMB CRAZY does the same for you.
Well that is the end of this PLUMB CRAZY Journey series. I hope it spoke to you. Next week, I will beginning my blooming series. All about how to make your stories bloom. I am excited.
Here is a doodle: "Flowers"
My quote for today is followed by a rare and short political rant from me. Something has been bothering me.
I suggest that this is a good time to think soberly about our responsibilities to our descendants - those who will ring out the Fossil Fuel Age. Our greatest responsibility, as parents and as citizens, is to give America's youngsters the best possible education. We need the best teachers and enough of them to prepare our young people for a future immeasurably more complex than the present, and calling for ever larger numbers of competent and highly trained men and women. Admiral Hyman Rickover
My RANT: We don't need standardized testing. We will encourage teachers to be accountable by giving them generous pay and favorable working conditions. Burying them in regulations and paper work is offering a future of mediocrity to our kids. Not one test has ever made a difference in my kids' lives. Teachers make differences in my kids lives -- Mr. Chapman, Mrs. Sherman, Mrs. Westberg, Mr. D. Mrs. Palmer...to name a few. The culture of the negative needs to stopped. Let's offer kids glorious, eye-opening knowledge, opportunities to apply that knowledge, and finally an instilled habit of decisions made on VERIFIED facts and logical thinking. Let's give teachers the reins of the future and not bureaucrats. We are the captains of our fate. We are masters of our destiny. Will we stop this educational madness and pave the way for a future with a sure foundation?
By: Terry Hooper-Scharf, on 4/25/2015
Blog:
ComicBitsOnline.com
(
Login to Add to MyJacketFlap
)
JacketFlap tags:
Add a tag
You know, some times I just do not think. I picked up 100 A4 document pockets this morning thinking that would see all my A4 Small Press comics/mags taken care of. I'll actually need about another 200!!
When it comes to the A5 (Digest) sized books...I think I'll need about 300 pockets. Having found out that my shelf by the door still has
Browner Knowles, Anon, Zelta
, Willie Hewes,Vanessa Wells and Jess Bradley-Bove books....oh.
I'll have 1000+ or so Small Press books which does not include my foreign language zines or the few late 1960s-1970s fanzines I have which are, literally, worth a hell of a lot!
Based on the lowest cover prices, condition of some -anyone remember the 1980s
Captain Scotland
comic/RPG?- the collection, and for some reason it is not a collectors market (yet), is worth around £3000.
But
that is as a whole and I'm not intending to sell off one or two here and there just yet!
Once I've finished
The Green Skies
I have a number of things I want to do and one will be to price the zines individually -maybe produce a basic price guide and one that is not by someone who wants to artificially inflate prices to make money from selling a collection is probably overdue!
Hey, I even have Finland's Pekka A. Manninen's first A4 Small Press comic from 1981 -
Milanon Ihne
!
I can see that relaxed Hollywood life style just over the council cess-pit!
And in case you missed the old article about the Golden Age of the UK Small Press:
http://hoopercomicart.blogspot.co.uk/2014/03/golden-age-of-british-small-press.html
By:
Becky Laney
, on 4/25/2015
Blog:
Becky's Book Reviews
(
Login to Add to MyJacketFlap
)
JacketFlap tags:
1960
,
books reread in 2015
,
books reviewed in 2015
,
children's classic
,
Dr. Seuss
,
picture books
,
Add a tag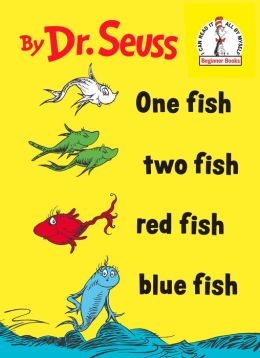 One Fish Two Fish Red Fish Blue Fish. Dr. Seuss. 1960. Random House. 60 pages. [Source: Library]
First sentence:
One fishtwo fishred fishblue fish.Black fishblue fishold fishnew fish.This one has a little star.This one has a little car.Say! What a lot of fish there are.
Premise/Plot: Does this book have a plot? I'm not sure it does! It does have a premise however. "From there to here, from here to there, funny things are everywhere" (9). "From near to far from here to there, funny things are everywhere" (55). " Readers find plenty of funny things within the pages of the book. Classical Seuss rhymes make this one lovely.
My thoughts: I like this one very much. Some pages are more memorable to me than others perhaps. For example,
Who am I?
My name is Ned.
I do not like
my little bed.
and
My hat is old.
My teeth are gold.
I have a bird
I like to hold.
Have you read One Fish, Two Fish, Red Fish, Blue Fish? Did you like it? Did you love it? I'd love to hear what you thought of it! Both what you liked, and what you didn't like.
If you'd like to join me in reading or rereading Dr. Seuss (chronologically) I'd love to have you join me! The next book I'll be reviewing is Green Eggs and Ham.
© 2015 Becky Laney of
Becky's Book Reviews
By: At A Hen's Pace, on 4/25/2015
Blog:
At A Hen's Pace
(
Login to Add to MyJacketFlap
)
JacketFlap tags:
Add a tag
Chicklet and I had such a special time together on our cruise!!
Here we are at O'Hare Airport at 6 a.m. on Monday morning. It was Mia's first flight!
Just a few hours later....
....we were in Miami, aboard the Norwegian Sky! Perfect for a girl who's 25% Norwegian.
In Freeport, we elected not to go to the beach, since it wasn't walking distance. Instead, we walked around the little shopping area near the dock. We spent $5 each; Chicklet bought a carved wooden dolphin, and I bought a straw fan. The seller stitched our names on the fan while we chatted with her and the other lady at the booth--the embroidery was included in the price! We also stopped to watch a woodcarver with an "I LOVE JESUS" t-shirt on, and we ended up talking to him for quite awhile too. He wasn't Anglican, but he reminded me of Anita, the cab driver that Papa R and I met on our cruise on Grand Turk Island--proud of his church, and his faith was obviously a big part of his life.
On the second day, at Nassau, we walked to a free beach and Chicklet made a friend there--a woman who was snorkeling in the shallow area. She gave Chicklet the snorkel pictured, because her husband wasn't using it. Besides lots of little fish to see, we
found hermit crabs to play with on that beach too!
On the third day, we went to a private island owned by the cruise line, called Grand Stirrup Cay. The snorkeling was even better there, so I rented a life-vest for Chicklet so she could go out farther safely. I would have loved to go with her, but there weren't any lockers for our stuff, including our ID's and my phone/camera. Plus snorkeling doesn't work for me because I can't get a good seal around my glasses, and if I remove my glasses, I can't see!
But there were lifeguards, and she had the life-vest, so I let her go, out of my sight, while I read Josephine Tey mysteries and soaked up the warmth of the sun. I felt a peace from the Lord that she would be fine--and she had a lovely time.
"Mom, I saw a Dory fish! Did you know all of the Finding Nemo fish are real? I think I've seen all of them now, except for the sea turtle."
I kept urging her to join me on a lounge chair for a few minutes, but she said, "I can do that this summer. I won't be able to do this back in Wisconsin!"
She snorkled for four hours that day, and two hours the day before, and never once said, "I'm bored," or "I wish I had a friend here." She was so content on the whole trip!
In the late afternoons, back on the ship, we swam in the ships's pool, sat in the hot tub, helped ourselves to soft-serve ice cream cones, and read books on our lounge chairs, enjoying the breeze. We ate our breakfasts and our first couple meals alone, but at dinner each night we went to the nice dining room and shared a table with others. At first Chicklet was hesitant about it, but she quickly discovered how interesting it was to meet people from all over the world. We met Canadians, a truck driver from NYC who had grown up in Guyana, a fun couple from Cincinnati, a talkative and lonely widower from Sevier, TN, and two twenty-something girls who had been homeschooled through high school. One had received training as a midwife in India, through Youth With a Mission, and was getting certified in the US. The other had graduated from high school with her associate's degree and had been on a number of missions trips since graduation, including a couple years in Australia. She was planning to return to college once she narrowed down what she really wanted to do--she had so many options!
We also went to the shows each night and really enjoyed the dancers, especially, since Chicklet12 has been taking a lot of dance. We discovered that there was an all-night buffet open at the outdoor eating area, so we had to visit there every night after the show, for an extra treat or two. We read in bed until about midnight each night. I stayed up a little later than C, and woke up a little earlier, without an alarm, which was lovely. In the darkness of our windowless inside cabin, we both slept super-well, but not too late!
I was so grateful to God for this trip, especially that it was relaxing and uneventful. I was quite nervous about it ahead of time, with fears that we would miss our flight, or it would be cancelled, and we'd miss the boat, or Chicklet's birth certificate wouldn't be adequate ID, or we'd lose our baggage, or have our ID's stolen, or SOMETHING would happen. Then at 10:30 p.m. on Sunday night, just 5 hours before we were going to leave for the airport, B10 threw up. Chicklet had been playing with him for hours that evening before bedtime, and so a new worry was added: We'd spend the whole cruise in our stateroom, puking.
But thanks be to God, NOTHING HAPPENED!
My husband and 3 of my boys were sick for days...but Chicklet and I escaped somehow. (We both drank Airborne as soon as B10 threw up. Maybe that helped? And Papa R wouldn't let me into the bedroom, cleaning up the mess himself.)
The relief of an uneventful time was almost as carthatic as the relaxing time away!
It was just really fun and relaxing, and such a sweet time with Chicklet12. I am so, so thankful!!
By: Janet Reid, on 4/25/2015
Blog:
Janet Reid, Literary Agent
(
Login to Add to MyJacketFlap
)
JacketFlap tags:
Add a tag
I have recently secured a book contract without an agent for my YA novel with a small press. I retain the film and foreign rights, which I believe should be left up to an agent. Will having a book contract provide me with more cachet to getting representation, or will my queries still be relegated to the "thanks but no thanks" pile?



First, you were smart to retain the rights your publisher is most likely not able to fully exploit.
Second, if you're querying for a novel that's already got a contract, your situation is a bit different than most. You'll want to query for your SECOND book, and mention that you retain the translation and film rights to the first book as well.
Most agents will not take on one book just for translation and film rights. There simply isn't enough money in it to justify the amount of work.
But, if you secure an agent for the second book, having your sub rights for the first book will be a bonus particularly for film.
By: Mary Nida Smith, on 4/25/2015
Blog:
Life's Beautiful Path
(
Login to Add to MyJacketFlap
)
JacketFlap tags:
Add a tag
Charlie Southerland, President of the Mountain Home Free Verse Poetry Group
We poets who tread the grapes - contributing to the poetic
wine of the world, rejoice mightily when the name of one of
our fellows appears on the label of the coveted vintage.
So much toil (though a joyful work) remains as anonymous as
grapes deemed unfit for the vat; but today our poetry community has
cause to celebrate.
As many know, Charlie Southerland's poem "Eclipse"
was recently included in the New York poetry journal 'TRINACRIA'
[one of his many acceptances lately]. Now cones the great news; the
poem so impressed the editor that our Mr. Southerland's piece has been
nominated for a PUSHCART PRIZE !
The vintners are selecting theirstocks, and Viola's farmer poet is
all the tests! May we all behappy to say, "I was there the day those
grapes were pressed"! Mr.Southerland is quick to point out, "Hey,
I haven't won it yet!". Now,Charlie, we celebrate the nomination
the way the husbandman celebrates the ripening fruit; later we'll
drink the wine. Congratulations!

By:
Becky Laney
, on 4/25/2015
Blog:
Becky's Book Reviews
(
Login to Add to MyJacketFlap
)
JacketFlap tags:
1999
,
Beverly Cleary
,
books reread in 2015
,
books reviewed in 2015
,
HarperCollins
,
J Fiction
,
J Realistic Fiction
,
library book
,
MG Fiction
,
MG Realistic Fiction
,
series book
,
Add a tag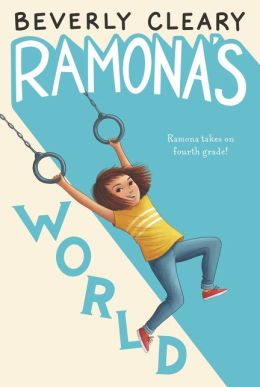 Ramona's World. Beverly Cleary. 1999. HarperCollins. 240 pages. [Source: Library]
Ramona's World is the last book in the series. Ramona is in fourth grade now. And she's definitely got a big crush on Yard Ape. (There's been no mention at all of Henry Huggins lately or of Mary Jane for that matter.)
"Ramona Spreads the News" Ramona starts fourth grade. She's anxious to spread the news that she's a big sister. Her baby sister, Roberta, is oh-so-cute and oh-so-little. Ramona meets the new girl, Daisy, and hopes that they can become BEST friends.
"The Role Model" Does Ramona like spelling? Does Ramona like teachers that emphasis how important spelling is? Does she like teachers that pick on and point out all her spelling mistakes word by word in front of the whole class? She does not! She is not liking her new teacher very much. But Roberta can make her day better. Roberta copies Ramona and sticks out her tongue and makes cute faces.
"At Daisy's House" Ramona and Daisy get to know each other better and decide to be best friends.
"The Invitation" Beezus has a new best friend, Abby. Abby is having a boy-girl party and invites Beezus, of course. Beezus is excited and anxious and sneaks out to get her ears pierced.
"The Princess and the Witch" Ramona gets into trouble at Daisy's house, but, it isn't her fault, not really.
"The Party" Beezus attends a party, and Ramona goes with her Dad to drop her off. Her Dad has been teaching Beezus how to dance. Does the party go well?
"The Grown-Up Letter" Ramona sends off a letter when she sees something that bothers her in the paper. She impresses her teacher when she gets a reply.
"Peas" Ramona's picture day
"Ramona Sits" Ramona cat-sits Daisy's cat. It is NOT a fun week. Seven days feels like forever. Especially when her Mom leaves her in charge of Roberta too--for a whole FIFTEEN MINUTES.
"The Valentine Box" Valentine's Day. Will she treasure Yard Ape's valentine?
"Birthday Girl" Ramona turns 10, has a party, shares her cake with boys, and learns something surprising about her old nemesis, Susan.
Part of me was sad to see an end to the series. I have loved visiting with Ramona so very much. The series did a good job at aging up the characters, however. Something that you can really appreciate better if you read the series all at once.
Do you have a favorite book in the series? Mine would probably be Ramona the Pest or Ramona the Brave or Ramona Quimby, Age 8.
© 2015 Becky Laney of
Becky's Book Reviews
By: Terry Hooper-Scharf, on 4/25/2015
Blog:
ComicBitsOnline.com
(
Login to Add to MyJacketFlap
)
JacketFlap tags:
Add a tag
Music For Deep Meditation posted this to Face Book. I normally avoid these things but it might raise a smile or two!
By:
Mary Lee
, on 4/25/2015
Blog:
A Year of Reading
(
Login to Add to MyJacketFlap
)
JacketFlap tags:
original
,
Poetry Month 2015
,
Add a tag
flash of gold
not smelted
newly molted
lilting flight
burbling song
undulation
concentrated
coruscating
cheer
Carol, at
Carol's Corner
, will join me again this year as often as possible.
Check the comments at A Year of Reading or Poetrepository for her poems.
leaving poetry trax in the comments.
Jone, at
DeoWriter
, is doing a "double L" challenge.
She and I are cross-poLLinating our challenges whenever possible.



By: Beth, on 4/25/2015
Blog:
YALSA - Young Adult Library Services Association
(
Login to Add to MyJacketFlap
)
JacketFlap tags:
Programming
,
30 Days of Teen Programming
,
Staffing
,
Add a tag
Staffing situations vary from library to library based on a number of factors including population served, budget, and organizational structure. So who gets to staff programs? YALSA's guidelines lay out a number of considerations to take into account whenever making staff and volunteer assignments for a program, no matter our size or structure. Points 6.3 and 6.5 in particular consider the different roles that staff and volunteers take.
6.3: Consider which tasks are best suited to librarians and which are more suited to paraprofessionals, community partners and mentors, adult volunteers or Friends of the Library, and teen volunteers and participants.
With any program, someone needs to take the leadership role and accept responsibility for everything (the good and the bad) that comes of it. I find this is most often the person (usually a librarian) who pitches the program, and who believes in it enough to carry through with it. Whether hiring a presenter or relying on a crew of regular volunteers, the program leader needs to know (or find how to find) the answers to any question anyone may have about it from the time it first goes on the program schedule to three weeks afterward, when someone calls to ask when the next one will take place. The librarian leading a program is also most often the person charged with enforcing the rules as in, "Sorry, this a teen program for teens only."
Other staff may be recruited to handle specific aspects of a program because of their expertise in a certain subject area; for instance, having the graphic designer (who also happens to be huge Doctor Who fan) design crafts for a Doctor Who oarty. Adult volunteers and mentors may serve in similar roles. When a local Star Wars cosplayer learned of a multi-fandom fest we planned last fall, she offered to not only come in costume, but bring her collection of hand-made doll costumes and accessories for display.
Community partners can range from a business that donates pizza, to an after-school program that arranges transportation for their group to all attend together. We love community partners at my library, and are generally happy with any participation they are willing to commit to. Outside groups always have their own policies; a business may ask that we display coupons or flyers with their donated food. As long as their policies don't violate ours, we are happy to comply. The program leader is the one who needs to step in and explain, for instance, that we cannot post advertisements on our community bulletin board.
Teen volunteers step into a number of roles depending on the program, their maturity level and skill set; always under staff supervision. Most volunteers are tasked with set-up and clean-up. Some are more enthusiastic about these duties tha others. Every now and then you'll find a volunteer who enjoys running the sweeper over the carpet. Most teens love to help their peers during the program. If it's a craft program they may even provide one-on-one assistance to participants who need a little more help.
Teen Advisory Boards and other regular volunteers should get involved as much as possible during the planning stages. Are you offering prizes for a contest? Talk to the board members to find out what they think their peers would like. In the case of our Fandom Fest, a couple of Anime & Manga club members came up with their own ideas for an informal trivia contest, so I let them run with it. They put questions together, dug through their manga collections to compile prizes, and ran the contest as one component of the bigger program. I had them announce the trivia contest winners, and made sure to thank them publicly at the conclusion of the program.
6.5. When hosting programs led by outside presenters, consider ways to ensure that teens also develop positive relationships with library workers.
This point goes hand-in-hand with maintaining your role as program leader. Sometimes leading means showing up early to assist an outside presenter with set-up and making sure they have everything they need. You can use this as an opportunity to learn just enough about what the teens will be doing during the program to assist them later if/when they need it. You can greet the teens as they enter, take attendance, and show  where to put their things. You can introduce the presenter, introducing yourself in the process. If you have a name tag or shirt to identify you as staff, then be sure to wear it. Then be an active presence  throughout program. I try to carry a camera or smartphone with me to document the program. Mostly I find myself answering questions, like, "Where is the restroom?"
With many programs, maintenance and/or security staff will be in the room periodically. This is a great time to introduce them to the teens, and vice versa. The relationship between teens and these staff can be filled with friction; I think mainly because maintenance  see teens as ones who make messes and break rules, and teens see maintenance as ones who scold them for natural behavior like eating and putting their feet up. It's during a program like the fandom fest where teens might learn that the maintenance and security are members of the same fandoms they are, and maintenance and security can see that teens are interested in making more than messes and noise.
By: GreenBeanTeenQueen, on 4/25/2015
Blog:
GreenBeanTeenQueen
(
Login to Add to MyJacketFlap
)
JacketFlap tags:
into the dark
,
Add a tag
Get ready for some awesome preview quotes from The Eternity Key!


The book releases on April 28! If you haven't read
The Shadow Prince
, don't worry! It's out now so check your local library or bookstore (it's out in paperback!)
By: James Gurney, on 4/25/2015
Blog:
Gurney Journey
(
Login to Add to MyJacketFlap
)
JacketFlap tags:
Animals
,
Add a tag
(
Link to YouTube video
) A few days ago, I filmed this family of red foxes at the edge of the wild woods behind my house. The male fox greets the vixen as she nurses five new kits. The mother's lactation lasts for about six weeks.
By:
Raising the bar on reading!
Hi, my name is Marilyn and I'm the bartender here...
Welcome to "The Book Bar." A beautiful space for you to order up your favourite drink and listen to guest authors, illustrators, musicians, anyone really, who loves books. If quiet is what you are seeking you can take your drink and wander to the back of the bar and enter the room entitled, "Booked!" This room is specifically reserved for those who want to curl up in a big comfy chair by the fireplace and get lost in their own story with little or no distractions. Others may join you there, but all-in-all it is a space created just for you and your book to enjoy each other's company.
This is the perfect venue to discover new books, relax yourself, have discussions about books, meet new people of like-minds, and of course make some new friends.
R. Bradley Snyder is the president of New Amsterdam Consulting, Inc. and has worked for industry giants Marvel Comics, The Discovery Channel, and Nickelodeon. The projects he has designed and managed have helped develop raw concepts into some of the industry's most successful program and campaigns for children.
Brad is going to talk to you about his book for parents called,
"The 5 Simple Truths of Raising Kids."
Raising pre-teens and teenagers doesn't have to be hard. In fact, if you only know five essential truths about why kids do what they do, you're on your way to becoming a smarter, happier, and more sane parent. Brad Snyder is an expert in adolescent behavior and has years of experience decoding the messages that parents don't get. He's surveyed over 100,000 children and adolescents, and has interviewed close to 4,000 in group and one-on-one sessions. In spite of what you see on tv, kids these days are not more violent, more sexual, or more in danger than you once were. Kids are kids.
WithThe 5 Simple Truths of Raising Kids, you'll:
Learn some secrets of tween and teen communication

Find out what exactly your kid is doing all day and why

Make rules that make sense for the whole family, without building resentment

Learn the truth about kids and social networking, texting, and bullying

Become a parent your children respect, but not one they hate or fear
What others are saying about Brad... (no worries, it's all good)
"This book provides an excellent overview of youth development. Educators and parents always look for advice and they will find many ideas about how to understand, support, and educate adolescents."--Gil G. Noam is the Founder and Director of the Program in Education, Afterschool & Resiliency (PEAR) and an Associate Professor at Harvard Medical School.
I
n this wonderful book, Brad stands up for today's kids, debunks all the claims that they're somehow worse than the last generation, and offers sound, research-based advice on how parents and communities can do a better job raising them."--Neil Howe is a renowned authority on generations and social change in America.
An acclaimed author and speaker, he is the nation's leading thinker on today's generations. "For parents, teachers, community leaders, and any adult who cares about the next generation of our citizens, "The 5 Simple Truths of Raising Kids" is an urgent 'must-read"!--Carol J. Evans, President, Working Mother Media, and Author, "This is How We Do It: The Working Mothers' Manifesto"
"R. Bradley Snyder's book, "The 5 Simple Truths of Raising Kids" takes away the dread and replaces it with hopefulness and humor."--Nicole Feliciano, Editor & Founder of MomTrends "Whether the context is food or video games, parents and children together can identify the central issue, and apply Brad's five simple truths to figure out what to do."--George C. Brackett, Former Director, Technology in Education Program, Harvard Graduate School of Education, and Founder, Codman Academy Charter Public School, Boston
"Brad's humanity is infectious, and his dedication to his work is inspiring. I can think of no better mentor to parents needing reassurance that kids are good, and everything is going to be okay."--Art Roche, Creative executive for digital media and family entertainment "You'll learn from his book, and enjoy the lessons. Like Spock two generations ago, Snyder's worth your attention
Hey want to win a signed copy of Brad's book? It's simple. All you need to do is let me know what the favourite drinks (yes you heard me....drinks....plural) of Sir Winston Churchill were and the first two to respond (and to get them right) will win one of Brad's great books. Just email me your answers at:
I'll contact you, get your contact info, send it off to Brad and voilá...this awesome book is yours.
Interview with Brad...
1. What is your dream car?
2. Do you prefer to give a gift or to receive one?
Both. But I prefer not to open gifts I receive.
3. Do you prefer a sit down meal or a picnic?
4. Are you left-handed or right-handed?
5. What is your favourite drink? (alcoholic or non-alcoholic)
Espresso and Highland Park Scotch Whiskey (not mixed together)
1. What was your favourite book as a child?
I liked reading The Little Engine That Could, but I loved having A.A. Milne's Winnie the Pooh read to me.
2. What person influenced you most in your lifetime?
I have been lucky in that I have had wonderful mentors at different times of my life. Of course, my family (my mother and father, my grandparents, and my Aunt Barbara) is the foundation that instilled in me a commitment to service and afforded me the confidence to explore new things. Later in life, I would be inspired by people who were committed to making a difference in their communities for no other reason than it was the right thing to do. My work with kids is largely influenced by a close friend I had growing up whose home life was so radically different from mine that it created a dissonance in me that I have never been able to shake. The fact that there are children who are neglected or even abused by the very people they rely on for love and security continues to motivate me and shape my work and writing.
3. What motivated you to become an author?
Before I started writing, I was speaking at public events, conventions, etc., about how the picture popular media paints of children is very different than what researchers know to be true. Initially, I found it amusing that a morning talk show would report on the some "dangerous new trend" impacting youth that was neither a trend nor dangerous in any measurable way. The overflow from those talks (i.e., the questions I could not answer during the sessions) became a blog. Eventually, I was approached by a literary agent.
4. What is the best/worst thing about being a writer?
I prefer speaking to writing. With the audience in front of me, I can assess the pace, the difficulty, and the entertainment value of the message. There is not that feedback when one is committing thoughts to text. Also, I had to unlearn my academic writing style. I also worry a lot about being right.
5. What do you like to do to relax?
I like to run and to cycle. However, nothing is as rejuvenating to me as a great conversation with smart people over a glass of wine...kind of like what you are doing here.
6. What is the hardest thing about being a parent?
Parenting is a lot like trying to balance a wobbling object: you can create a solid foundation (i.e., a structured environment, good nutrition, exercise, rest, etc.), but it is hard to predict where the child is going to be physically, emotionally, etc., at any moment. As a parent, it also can be difficult to give your child the space and time to do the right thing and opportunities to reset after mistakes are made. Adults want immediacy, and we tend to hold grudges.
7. What adult authors do you like to read that you can pass onto us?
I like everything Paul Auster writes. Lately, some work I am doing with Pop Goes the Classroom, which is a group that uses pop culture to stimulate learning in school children, has me reading graphic novels. I am particularly fond of Paul Pope's Battling Boy. Finally, I am reading some vintage science fiction by Richard E. Peck, collected in one volume appropriately titled Vintage SF, in preparation for an event I am moderating, called From Science Fiction to Science Fact: How the science fiction writing of Richard Peck inspired his son Mason Peck to become one of the nation's most important aerospace engineers. If you are in the Phoenix area on May 27th, you should check it out.
8. Do you have any new books that we can look forward to coming out in the near future?
For the last year or so, I have been focussed on a children's book series that I co-write with Marc Engelsgjerd. It is the What Every Child Needs To Know Series, and it is designed to help adults introduce young children to a favorite artist, to start a conversation about a difficult topic, or just to explain why we adults are the way we are.
By:
Sylvia Vardell
, on 4/25/2015
Blog:
Poetry for Children
(
Login to Add to MyJacketFlap
)
JacketFlap tags:
Add a tag
In this age of "reduce, reuse, recycle," it's a good reminder that thrift shops help us do that with material goods-- as consumers and as providers. And children can start young with the notion of donating to help others. Here April Halprin Wayland conveys a child's mixed feelings in a very clever and tender way in her poem,
"Box for the Thrift Shop
."
Juli P. has her two young performers reading both the English and Spanish versions of this lovely poem here.
Plan now to donate goods (and/or visit a thrift shop) on August 17, National Thrift Shop Day. And encourage children you know to participate with you, too.
For the full text of this poem and 150+ more (all in English AND Spanish), order your own copy of The Poetry Friday Anthology for Celebrations

HERE

and for more Poetry Celebrations fun, click

HERE

. Plus for more on National Poetry Month, click

HERE

.
By:
Donna McDine
, on 4/25/2015
Blog:
Write What Inspires You
(
Login to Add to MyJacketFlap
)
JacketFlap tags:
#AtoZChallenge
,
Award-winning children's author
,
Donna McDine
,
Value
,
Add a tag
V is for Value...
Definition...
1.
relative
worth,
merit,
or
importance
Have you ever taken the time out to value yourself? Our self worth is immense in taking stock of our value not only for ourselves, but to our loved ones. For if we value ourselves and what's important to us our loved ones will follow suit in valuing you and themselves as well.
A dare you, take the time out to value yourself and talents and watch them explode.
~~~~~~~~~~~~~~~~~~~~~~~~~
Best wishes,
Donna M. McDine
Multi Award-winning Children's Author
Ignite curiosity in your child through reading!
Connect with
Donna McDine on Google+
A Sandy Grave
~ January 2014 ~ Guardian Angel Publishing, Inc. ~ 2014 Purple Dragonfly 1st Place Picture Books 6+, Story Monster Approved, Beach Book Festival Honorable Mention 2014, Reader's Favorite Five Star Review
Powder Monkey
~ May 2013 ~ Guardian Angel Publishing, Inc. ~ Story Monster Approved and Reader's Favorite Five Star Review
Hockey Agony
~ January 2013 ~ Guardian Angel Publishing, Inc. ~ New England Book Festival Honorable Mention 2014, Story Monster Approved and Reader's Favorite Five Star Review
The Golden Pathway
~ August 2010 ~ Guardian Angel Publishing, Inc. ~ Literary Classics Silver Award and Seal of Approval, Readers Favorite 2012 International Book Awards Honorable Mention and Dan Poynter's Global e-Book Awards Finalist
By:
I love to get an early start
When all the world's in bed,
So roads where traffic plagues me
Will have empty lanes instead.
I'll get to stores just opening
And saunter through the aisles.
The checkout folk, not grumpy yet,
Will ring me up with smiles.
My chores complete, I'll have the day
I'd better wrap this poem before
By: Jocelyn Rish, on 4/25/2015
Blog:
Adventures in Children's Publishing
(
Login to Add to MyJacketFlap
)
JacketFlap tags:
YA Author Interviews
,
Add a tag
We're delighted to have Claire LaZebnik join us to share more about WRONG ABOUT THE GUY, her fourth book to be loosely based on a Jane Austen novel.
Claire, what was your inspiration for writing WRONG ABOUT THE GUY?
Like my three previous YA novels, WRONG ABOUT THE GUY was inspired by Jane Austen—more specifically in this case by her novel EMMA, which is one of the great literary works of all time. Wait—that makes it sound stuffy—it's not! It's a wonderful read, romantic and funny and frustrating and satisfying all at once. I was also inspired by the Amy Heckerling movie CLUELESS, which took Emma's story and updated it and made it relevant and modern and approachable. I didn't want to reinvent the same old wheel, so I took my novel in a very different direction—instead of following the original beat by beat, I just borrowed elements of the plot--but my dream is to succeed in keeping the spirit of Emma alive as well as Heckerling did.
What scene was really hard for you to write and why, and is that the one of which you are most proud? Or is there another scene you particularly love?
Having just gone on and on about how this book was inspired by Jane Austen, I now have to admit that the part of the book I'm most proud of is the part that has nothing to do with Austen. I added my own subplot about Ellie's little brother, who isn't talking yet and has some unusual behaviors. Ellie's mother is worried about him, but her stepfather isn't, and Ellie is torn: she adores Jacob just the way he is, but she also wants to be supportive of her mother. It's always a struggle for families to tease out what's really concerning about a child and what's just overly-hysterical parenting, and I tried not to weigh the argument too much on one side or the other. And it dovetailed nicely with the romantic plot--we can all occasionally be wrong about the little guys too! Sibling love can be as complicated as romantic love.
What do you hope readers will take away from WRONG ABOUT THE GUY?
So for the most part, this book is just supposed to be FUN-- it's romantic and written to bubble along entertainingly. You want to take it to the beach? It's ready to get sandy. But I don't think there's an author in the world who doesn't try to sneak in a little meaning along with all the fun. As I mentioned earlier, I worked in a storyline that's near and dear to my heart, about the family trying to figure out whether the little brother is just a late talker or actually has special needs. And I'd like to think that anyone reading it would see that the goal isn't to label anyone or leap to conclusions, but to be a supportive family in every sense of the word and to pull together instead of apart when a situation is both challenging and complicated.
What's your writing ritual like? Do you listen to music? Work at home or at a coffee shop or the library, etc?
I'm so all over the place! A lot of my work is done standing up with my computer on top of this closed cabinet in our dining room—the height is perfect for me to type while standing. If I sit down at a table or desk to work, my little dog will jump in my lap and fall asleep on my arms and it gets hard to type or to get up again—so I stand when I can. But I'm most efficient when I leave the house to work, which usually means a coffee shop. I like to walk to my local Starbucks—it's a good half hour walk from my house, so I get exercise and a good work environment with just the right amount of white noise—and of course a nice hot Americano. I used to go to Krispy Kreme a lot but I can't walk there, so it's not as good. But . . . donuts!
What advice would you most like to pass along to other writers?
Keep moving forward, like a shark. The biggest problem in writing is getting bogged down, both in the creative process and in the waiting-to-be-discovered phase (there's a lot of waiting in this business—agents and editors take a while to read).
Years ago, I learned to talk back to the voices in my head that like to tell me that what I'm writing sucks. I respond politely to them that while they may be right, I can always go back and edit later, and right now I just want to get to the end of the rough draft, thank you very much. I know that sounds insane—I mean, here I am admitting not only that I Hear Voices, but also that I Have Conversations with Them, but most writers I know wrestle with self-defeating self-criticism and this is how I deal with mine. It keeps me from giving up or slowing down and I DO get through a rough draft eventually as a result.
And as far as the waiting process goes, the best advice I have is don't sit around waiting to hear back from the people who are reading the thing you just finished—always start something new. It's the best feeling in the world to say to yourself, "What's next? I'm freed up to work on anything I want!" Don't deny yourself that high just because you don't know what's happening with your previous work. Best case scenario, someone wants to represent or publish the finished product and you have two projects on your desk; worst case, no one says yes to that one, but you're already invested in something new and thrilling and feeling hopeful about that one. Being creative keeps you going.
ABOUT THE BOOK
Wrong About the Guyby Claire LaZebnik
PaperbackHarperTeenReleased 4/21/2015
Claire LaZebnik's latest twist on a beloved classic asks the age old question: Could the girl who knows everything be wrong about the guy?
As the stepdaughter of a TV star, Ellie Withers has it all: an amazing house in LA, a devoted friend who loved her before she even knew who Ellie's stepfather was, and a burgeoning romance with handsome Aaron Marquand. But Ellie isn't the kind of person who's content with simply having it all—the people in her life have to be equally happy. And, of course, she knows exactly what they need.
When Ellie's plans for her family, her friends, and even her love life don't turn out the way she imagined, she begins to wonder if maybe she could stand to learn a thing or two after all. Most surprising, though, is that the perfect person to teach her is the last person she'd expect.
With her signature witty narration and swoon-worthy romance, Claire LaZebnik (the author of fan favorites Epic Fail, The Trouble with Flirting, and The Last Best Kiss) once again breathes new life into a perennially popular love story: Jane Austen's Emma.
Purchase Wrong About the Guy at Amazon
Purchase Wrong About the Guy at IndieBound
View Wrong About the Guy on Goodreads
ABOUT THE AUTHOR
Claire LaZebnik grew up in Newton, Massachusetts, went to Harvard and moved to LA. (Her name was Claire Scovell for a large part of all that.) She's written five novels for adults, Same as It Never Was, Knitting under the Influence, The Smart One and the Pretty One, If You Lived Here, You'd Be Home Now, and Families and Other Nonreturnable Gifts. She's also published two YA novels with Harper Collins: Epic Fail and The Trouble with Flirting (due out in winter, 2012/3). With Lynn Koegel (who's absolutely brilliant), she co-wrote Overcoming Autism: Finding the Answers, Strategies and Hope That Can Transform a Child's Life and Growing up on the Spectrum: A guide to life, love and learning for young adults with autism and Asperger's. She contributed to an anthology play called Motherhood Out Loud, and have been published in The New York Times, Self, Vogue and other magazines.
She lives in the Pacific Palisades with my husband Rob (who writes for "The Simpsons"), her four kids (Max, Johnny, Annie and Will) and too many pets to keep track of.
What did you think of our interview with Claire LaZebnik, author of WRONG ABOUT THE GUY? Let us know in the comments!
Happy reading,
Martina, Jocelyn, Shelly, Jan, Lisa, Susan, and Erin
By: Jocelyn Rish, on 4/25/2015
Blog:
Adventures in Children's Publishing
(
Login to Add to MyJacketFlap
)
JacketFlap tags:
YA Author Interviews
,
Add a tag
We're thrilled to have Lori Goldstein with us today because she and her book BECOMING JINN were part of a First Five Pages Workshop in 2013. It's very exciting to see an alum's book go on to be published!
So tell us, Lori, what was your inspiration for writing BECOMING JINN?
Simply a name. A few years ago, there was a horrible earthquake in Turkey. A mother and her infant daughter were pulled from the rubble and both miraculously survived. That baby's name was Azra, which is my protagonist in
Becoming Jinn
. It was hearing this beautiful name and picturing this world she would live in that sparked the idea of writing a book featuring Jinn, which for some reason I knew was the term for spirits derived from North African and Middle Eastern lore. A fan of contemporary, I decided to merge the fantasy elements with our modern world and drop Azra and her Jinn family into the world in which I live—quite literally into my home state of Massachusetts.
Was there an AHA! moment along your road to publication where something suddenly sank in and you felt you had the key to writing a novel? What was it?
Yes, there most definitely was. I had written an adult manuscript over the course of three years, give or take, while also working as a freelance copyeditor. I was always in the publishing world in some way but never on the fiction side. As an avid reader and someone trained in writing, I figured writing fiction would come somewhat easily. It didn't. Writing that first manuscript was how I learned that! While I eventually ended up with a manuscript I was proud of that received some agent requests (including from my current agent, though she signed me for
Becoming Jinn
), I wanted to start my next project (which was
Jinn
) in a much more organized way. And so I took a novel planning course at the Grub Street writing center in Boston. It was during this class, taught by author James Scott, that I had my AHA! moment. He was talking about inside story and outside story and referred to what he called "the wound and the want" and how it informs both. That was my eureka moment. While much of what he was saying I'd heard or read in some way before, it was the context and the way he described this particular element that made everything fall into place in a way that I knew from that moment on would change my writing—all my writing—for the better. I wrote more about "the wound and the want" in a series I did on novel planning last year: http://www.lorigoldsteinbooks.com/novel-planning-step-3/
How long did you work on BECOMING JINN?
Following on what I said above, using the tools I learned in the novel planning course, I was able to write
Becoming Jinn
in two months after one month of planning. My first drafts are more like second drafts because my "first draft" is actually a very long outline/scene-by-scene synopsis, to the tune of 70-80 pages. That outline has summaries as well as full-on scenes with dialogue if the mood strikes while I'm putting it together. In fact, the ending of
Becoming Jin
n is pretty spot on to what I wrote in its original outline.
I then revised for a month prior to getting my agent. I revised for two months with her before we went on submission. So total time to that point was about six months. I then revised based on my editor's notes for about three months. Then copyediting and proofing. So pretty close to a full year when you add it all up. And a grand total of having read the book through from beginning to end of, oh, about nine trillion times! You better love what you write!
What advice would you most like to pass along to other writers?
See the above about loving what you write! Seriously, that's my biggest piece of advice. You will read your book so many times, you will nearly have it memorized. You have to do that and you have to
want
to do that. You need to know it inside and out so you can see the mistakes and fix them. So you can make it better. If you can't dedicate yourself to doing that, if you get bored and itchy to move on, you won't be able to see the manuscript through to publication.
What are you working on now?
The conclusion to the
Becoming Jinn
series, tentatively titled
Circle of Jinn
, is in the can, so right now I'm working on a contemporary that, like
Jinn
, involves a complicated family setup. This one is sans magic, but it has a lot of the flavor of
Becoming Jinn
, which I think is a contemporary fantasy in the truest sense of those words as
Jinn
reads very "real world," or so readers are telling me! I won't say more about the new project because it's still early, but I'm really excited about the idea and can't wait to truly dig in. Though I do still miss writing Azra, I have to admit!
ABOUT THE BOOK
Becoming Jinnby Lori Goldstein
HardcoverFeiwel & FriendsReleased 4/21/2015
Forget everything you thought you knew about genies!
Azra has just turned sixteen, and overnight her body lengthens, her olive skin deepens, and her eyes glisten gold thanks to the brand-new silver bangle that locks around her wrist. As she always knew it would, her Jinn ancestry brings not just magical powers but the reality of a life of servitude, as her wish granting is controlled by a remote ruling class of Jinn known as the Afrit.
To the humans she lives among, she's just the girl working at the snack bar at the beach, navigating the fryer and her first crush. But behind closed doors, she's learning how to harness her powers and fulfill the obligations of her destiny.
Mentored by her mother and her Zar "sisters," Azra discovers she may not be quite like the rest of her circle of female Jinn . . . and that her powers could endanger them all. As Azra uncovers the darker world of becoming Jinn, she realizes when genies and wishes are involved, there's always a trick.
Purchase Becoming Jinn at Amazon
Purchase Becoming Jinn at IndieBound
View Becoming Jinn on Goodreads
ABOUT THE AUTHOR
Lori Goldstein was born into an Italian-Irish family and raised in a small town on the New Jersey shore. She earned her bachelor's degree in journalism from Lehigh University and worked as a writer, editor, and graphic designer before becoming a full-time author. She currently lives and writes outside of Boston. Lori is the author of the young adult contemporary fantasy series Becoming Jinn (Feiwel & Friends/Macmillan, April 21, 2015, Spring 2016). You can visit her online at www.lorigoldsteinbooks.com.
What did you think of our interview with Lori Goldstein, author of BECOMING JINN? Let us know in the comments!
Martina, Jocelyn, Shelly, Jan, Lisa, Susan, and Erin
By: Jocelyn Rish, on 4/25/2015
Blog:
Adventures in Children's Publishing
(
Login to Add to MyJacketFlap
)
JacketFlap tags:
YA Author Interviews
,
Add a tag
THE TRIALS is the final book in the
Project Paper Doll
series, and we're thrilled to have author Stacey Kade here to tell us more about her writing process.

Stacey, what did this book teach you about writing or about yourself?

Writing this book was an education in a couple of different ways. After reading 2K to 10K by Rachel Aaron, I decided I wanted to keep track of my daily word count. I'd never done that before. It was uncomfortable at first--I felt like I was telling on myself on the days where I didn't quite make my goal! But it was very eye opening to see the patterns in my productivity and the way that even days with small word count add up quickly. (I wrote about the experience here: http://staceykade.tumblr.com/post/102698100788/how-i-wrote-the-trials-a-post-about-process)

This was also my first book with a new editor, which is always a little scary! You never know if they're going to like your style or your ideas. But working with Tracey was fantastic! I learned a great deal from her about tightening my story and my sentences.

What's your writing ritual like? Do you listen to music? Work at home or at a coffee shop or the library, etc?

If I have to, I can write anywhere. But I prefer working at my local Starbucks at my favorite table, with a hot chocolate (yes, year round) in my hand. And yep, headphones on with my playlist playing.

What advice would you most like to pass along to other writers?

There are two things I wish I'd known earlier, when I first started writing.

1) Your character needs to have a story goal. What is he/she trying to accomplish over the course of the story?

I'm a pantser, so I used to just jump in and start writing. The problem with writing a character without knowing his/her goal is that you may end up sort of wandering all over the place in the story, going off on tangents and taking side trips that have nothing to do with the main part of the story. Knowing your character's goal helps keeps you on track.

2) Write all the way to the end.
I have yet to write a book that I did not HATE with an all-consuming fire at some point during drafting. I'm always convinced that it's terrible, that I should quit now and start revising. Or just scrap it and start over.

Sometimes I'm right, and it's bad. Sometimes it's just that I have no perspective on the story so far. Yeah, maybe the scene I'm working on clashes horribly with the beginning. But it might be because the beginning isn't right and this scene is, rather than the other way around.

Sometimes it's just insecurity screaming really loudly in my brain. :)

I used to follow that instinct to scrap and start over. But when I went back and reread the drafts later, I realized that they weren't as bad as I'd thought. In fact, I'd wasted time and effort by starting over.

So, now I make myself write all the way to "the end," even if it's the crappiest of crappy first drafts. I may end up scrapping it or I may end up using pieces of it or maybe it only will only require a few tweaks. It's impossible for me to know until I get to the end and look at the book as a whole.

What are you working on now?

I'm working on edits for my first New Adult novel, 738 DAYS. It's about Amanda, who was abducted when she was fifteen and held captive for two years. Now, she's nineteen, and two years after her return home, she's still suffering from anxiety and agoraphobia. A publicity stunt throws her together with the former TV heartthrob--Chase Henry--whose poster was her only friend in captivity. And it seems like they might be the only ones who can save each other.

I'm also working on--and very excited about--my 2016 YA release with Simon & Schuster. LIFE, AFTER is the story of the twin sons of a pastor. The boys are in a car accident and only one of them survives, which raises all kinds of questions about faith and fate and the secrets his brother was keeping. I'm the daughter of a pastor so I was able to draw on some real-life experiences for this book, which was really fun.
ABOUT THE BOOK
The Trialsby Stacey Kade
HardcoverDisney-HyperionReleased 4/21/2015
After being on the run, Ariane Tucker finds herself back where she started—under the cruel control of Dr. Jacobs, head of the research facility that created her. Now she must participate in the upcoming trials; a deadly competition pitting her against other alien hybrids, each representing a rival corporation.
But Ariane is no one's weapon. She is prepared to die if it means taking down those involved in Project Paper Doll. They destroyed all that she holds dear, including Zane Bradshaw, the one person she trusted and cared for the most—the person she was forced to leave behind, bleeding and alone.
As her plan takes shape Ariane will need to depend on, now more than ever, the other side of her heritage—the cold, calculated instincts born from her alien DNA. With Zane gone she has nothing left to lose.
With heart-pounding action, and plenty of surprises, the gripping conclusion to Stacey Kade's Project Paper Doll series delivers a powerful finish that will keep fans hooked to the very end.
Purchase The Trials at Amazon
Purchase The Trials at IndieBound
View The Trials on Goodreads
ABOUT THE AUTHOR
As an award-winning corporate copywriter, Stacey Kade has written about everything from backhoe loaders to breast pumps. But she prefers to make things up instead.
She lives in the Chicago suburbs with her husband, Greg, and two retired racing greyhounds, SheWearsThePants (Pansy) and Shutter. When she's not reading or writing, you'll likely find her parked in front of the television catching up on her favorite shows (Scandal, The Vampire Diaries, Almost Human, The Walking Dead, and Sherlock, among others.)
Stacey is the author of the The Ghost and the Goth trilogy (THE GHOST AND THE GOTH, QUEEN OF THE DEAD, and BODY & SOUL) and The Project Paper Doll Series (THE RULES and THE HUNT). You can find her (far too often) on Facebook and Twitter as well as
http://www.staceykade.com
What did you think of our interview with Stacey Kade, author of THE TRIALS? Let us know in the comments!
Happy reading,
Martina, Jocelyn, Shelly, Jan, Lisa, Susan, and Erin
By: Jocelyn Rish, on 4/25/2015
Blog:
Adventures in Children's Publishing
(
Login to Add to MyJacketFlap
)
JacketFlap tags:
YA Author Interviews
,
Add a tag
ENDANGERED is the latest thriller by Lamar Giles, and we're excited he's stopped by to share more about it.

Lamar, tell us about your inspiration for writing ENDANGERED.
I was inspired to write this book by a number of cyber-bullying stories that have hit the news in the last decade or so. The most high-profile of these stories tend to culminate in the bullied child's death, which is horrendous. It occurred to me that the kids who did the bullying likely believed they either weren't doing something bad when they were accosting their target, or they simply didn't see the kid they were bullying as a real person. I wanted to explore how that sort of thinking works. How do you self-mythologize to make psychologically torturing another person seem shrug worthy to yourself and your friends? Then, when things go terribly wrong, how do you deal? Do you hang on to the mythology you created? You're a good person, and it's not your fault? It's something worth examining, and I want people who read it to take a harder look in the mirror when they're done.
What advice would you most like to pass along to other writers?
There are two words that are the most important words for writers, but so many never learn to use them effectively. Those words are "The End". Train yourself to finish stories. So much of the learning the craft comes in working the beginning, middle, and end of a story. But, it's no secret that writing the middle of a story can sometimes feel like a drag, particularly with a long form project like a novel (which is why a lot of pros recommend honing craft by writing many, many short stories). If you're the kind of writer that starts a bunch of projects, but finishes very few of them, break that habit. It's the most useful skill you'll develop.
What are you working on now?
Right now, I'm writing a book for Scholastic called OVERTURNED, about a teen card shark in Las Vegas who has to solve her poker player father's murder. Then, I'll be writing the follow-up to my first young adult mystery FAKE ID, which I'm super-excited about. The reaction to FAKE ID has been tremendous, and I've been longing to return to Nick and his world. Hopefully, all the FAKE ID fans out there feel the same.
ABOUT THE BOOK
Endangeredby Lamar Giles
HardcoverHarperTeenReleased 4/21/2015
Endangered is a thrilling page-turner perfect for fans of Barry Lyga's I Hunt Killers.
The one secret she cares about keeping—her identity—is about to be exposed. Unless Lauren "Panda" Daniels—an anonymous photoblogger who specializes in busting classmates and teachers in compromising positions—plays along with her blackmailer's little game of Dare or . . . Dare.
But when the game turns deadly, Panda doesn't know what to do. And she may need to step out of the shadows to save herself . . . and everyone else on the Admirer's hit list.
Purchase Endangered at Amazon
Purchase Endangered at IndieBound
View Endangered on Goodreads

ABOUT THE AUTHOR
Lamar "L. R." Giles writes books for teens and adults. FAKE ID, his debut Young Adult Thriller, will be published by HarperCollins in 2014. He is represented by Jamie Weiss Chilton of the Andrea Brown Literary Agency and resides in Chesapeake, VA with his wife.
What did you think of our interview with Lamar Giles, author of ENDANGERED? Let us know in the comments!
Martina, Jocelyn, Shelly, Jan, Lisa, Susan, and Erin
By: Betsy Hubbard, on 4/25/2015
Blog:
TWO WRITING TEACHERS
(
Login to Add to MyJacketFlap
)
JacketFlap tags:
memoir
,
mentor texts
,
Notice & Note signposts
,
Throwback Week
,
Add a tag
Let's check in on a moment in Tara's class from early November of last year as she shares connections between reading and writing workshop.
View Next 25 Posts