I'm currently catching my breath following a whirlwind year of taking care of business during which I was constantly busy, physically sore, out of touch with my imagination, and missing more dog walks than I care to count. I have been pulled back to a quieter sort of life because I need to attend to the well being of a close family member, and so the fact that I now have more time on my hands in which to think, muse, and perhaps create is a good thing, but it has come about because of a bad thing. This is the Tao of life, the up and down, back and forth, black and white, concrete and abstract, thinking and intuiting, building and destroying…the same old drill; nothing new.
While trying to catch up with the self I was before my crazy busy year began, I thought that beginning to re-read some of my favorite articles from the Endicott Studio archives would be a good start. This is when I found out that Midori Snyder is in the process of moving Endicott Studio and the Journal of Mythic Arts to a new home. In Midori's words:
I have been a bit preoccupied lately as I have a looming deadline to get the Herculean task of transferring over 10 years of Endicott Studio and Journal of Mythic Arts files from one website to another. Terri and I have had one foot on two platforms for the last five years and it's time to consolidate the archives on one site. It will also potentially set us up should we in the future decide to return to publishing a new version of the Journal. So, it's worth — a money saver, a chance to clean up the dead links, update art, and author bios, Terri's awesome reading lists and recommendations.
I am hugely grateful to Midori Snyder and Terri Windling for their award winning writing and editing. At times I've feared that this body of work will one day vanish from cyberspace, and I don't know how I would live without it. Good luck, Midori, and thank you for preserving and perpetuating this gift!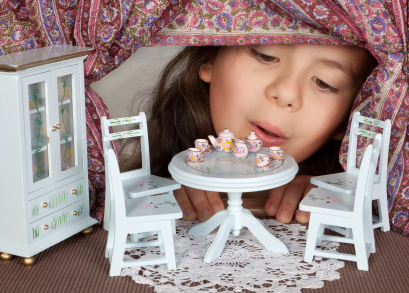 And while adjusting to this quieter life, I've mused on the things that brought joy a long time ago, like doll house furniture, papier maché, collage, tin toys, dogs, horses, flowers, trees, reading and writing…
In attempting to balance priorities, I like to hear how other people do it. The following is from "The 'Busy' Trap" by Tim Kreider for the New York Times:
Idleness is not just a vacation, an indulgence or a vice; it is as indispensable to the brain as vitamin D is to the body, and deprived of it we suffer a mental affliction as disfiguring as rickets. The space and quiet that idleness provides is a necessary condition for standing back from life and seeing it whole, for making unexpected connections and waiting for the wild summer lightning strikes of inspiration — it is, paradoxically, necessary to getting any work done. "Idle dreaming is often of the essence of what we do," wrote Thomas Pynchon in his essay on sloth. Archimedes' "Eureka" in the bath, Newton's apple, Jekyll & Hyde and the benzene ring: history is full of stories of inspirations that come in idle moments and dreams. It almost makes you wonder whether loafers, goldbricks and no-accounts aren't responsible for more of the world's great ideas, inventions and masterpieces than the hardworking.
There is a certain Japan tin toy truck–I now know it's called Joe's Kitchen Wagon Catering Van (friction food truck)–that my playmate owned when I was three years old. I loved that truck more than my feeble grasp on language could express, and when my family moved to a new house in a new neighborhood one of my biggest regrets was never seeing that truck again. I never forgot that toy and have looked for it occasionally online, but didn't find it until just a few days ago! I found an image on ebay.ca and it was absolutely, most definitely the toy truck of my dreams!!!!
I took a few screenshots, as you can see below. But the crazy thing is, the person selling that truck (it was already sold by the time I found it) could live anywhere in the world. But guess what? He/she lives where I live. How could I have missed this? Oh yeah, I was too busy to notice.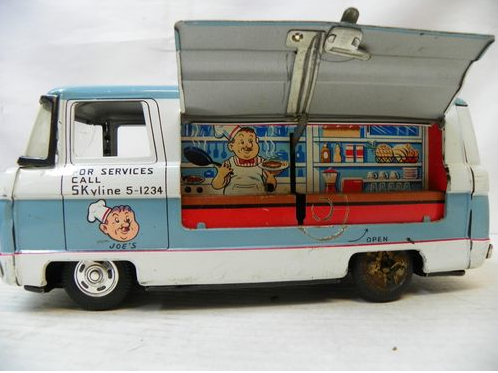 (If you or someone you know is selling this truck, please email me. I won't be too busy to answer.)
Add a Comment