As I've mentioned in a few posts here and there, I've been slowly reading an ARC of Andrea Barrett's upcoming story collection Archangel. Her fans are going to adore this; it's everything you expect from Barrett and more - a truly fabulous set of stories. I love it.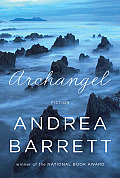 The final story is "Archangel" and includes the main character from the earlier story "The Experiment", now all grown up and fighting in WWI. It's 1919 in "Archangel" and although the war is over, for these men it continues in Russia, where they are assigned to The Polar Bear Expedition and bizarrely, stuck in the Russian Civil War. I have never heard about this force which is pretty stunning as I heavily studied US military history in college (it was the main focus of my history degree) and I've read a ton on WWI. (It seems like I'm always finding out more of history that I've missed. So frustrating!)
Barrett does amazing stuff with the setting and characters and brings alive all the confusion and fear of this war-after-a-war where nobody has any idea what is going on. Because this is Barrett there is also a second character, a woman, who is an x-ray technician. The science history of x-rays blends into military history as if they were always meant to be, and readers fall in love with these two people so far from home and so uncertain as to why they are there and what will become of them in that miserable place.
You will read "Archangel" and hate war all over again. It's sublime - brittle and sharp and slices your heart. I ripped me apart a bit, this story, and the final paragraphs were worthy of a Wilfred Owen poem.
I can't wait until you all read this book - I just can't wait.
[Post pic: En route to Archangel, a group of 339th Infantry Regiment doughboys pose with their newly issued M1891 Mosin-Nagant rifles. From the Army Sustainment Bulletin.]
Add a Comment