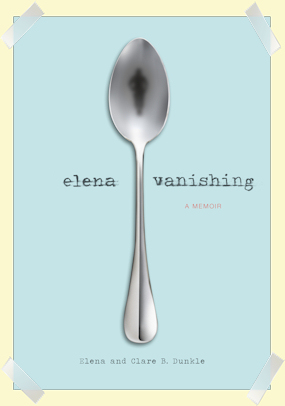 Published in conjunction with Clare Dunkle's Hope and Other Luxuries, Elena and Clare Dunkle's Elena Vanishing is a memoir about battling anorexia. Told primarily from the perspective of Elena, starting when she was 17, it is a graphic depiction of the inner fight that occurs when suffering from the disorder. Reading this book is a visceral experience; but it presents a few challenges as well, most notably whether it is the voice of Elena or Clare that comes through on the page.
Hope and Other Luxuries presents a straightforward chronology of the events during Elena's childhood, diagnosis and treatment. Elena Vanishing is more of a rush of emotions and includes the ever-present voice of anorexia that Elena hears in her head, constantly taunting and harassing her through every second of the day. Readers are given a ringside seat to the daily battle with body image that Elena faced, constantly checking her makeup, diligently recording any reference made to her physical beauty (and her weight when such comments were made).
The experiences Elena had with various treatment centers are vivid and searing and the people she met and became friends with are pretty hard to forget. As a group these young women provide so many insights into anorexia that it is hard to overstate how important Elena Vanishing will likely be to family and friends of those who are stricken with it or those who treat the disorder or to those who suffer from it. I want to make that clear that it is, in many significant ways, an important book.
But I've also got a pretty big problem with Elena Vanishing.
In Hope and Other Luxuries, Clare Dunkle writes about Elena asking her repeatedly to help her write a memoir. At first Clare is unwilling to do so; she is a fantasy writer and not at all familiar with nonfiction and combined with the subject matter being so close and painful, she does not want any part of it. But eventually, she determines this could be an important part of Elena's recovery and so she talks to her daughter, records her thoughts, reads her journals, and puts together the memoir which became Elena Vanishing. After it was accepted by Chronicle Books she was asked to write a book from her own perspective and that became Hope and Other Luxuries.
So, if I read all of this correctly, Elena Vanishing is a memoir written from the perspective of Elena Dunkle but by the hands of Clare Dunkle. But it is not a book "as told to" or "edited by" Clare. It is fully credited to both of them. As I was immersed in it, I easily became convinced that I was experiencing everything as Elena did, that I was literally inside her head facing down the endless nagging degrading voice of anorexia. But afterward I wondered if that was really true — was it all directly from Elena or was it partly from what Clare thought happened to Elena or what Elena thought or felt? Are the already blurred lines of memoir going a degree further with this title? Where does the daughter's voice end and the mother's interpretation of it begin?
It's all very puzzling and honestly, because I think this topic is so important and the book so well written, it's also rather frustrating. I want to believe that this is Elena's story but when reading the passages about writing the book from Hope and Other Luxuries, where Clare describes how difficult it was for her write Elena Vanishing….well, I can't be sure. I wrote a memoir, I know how complicated memoir can be when it comes to questions of truth and memory but it seems that the Dunkles (and their editors) have gone one step further than most with their two books. They are not only viewing the same events from two different perspectives (which I think is a great idea) but one of those perspectives is derived from two different minds. I understand that this might have been the only way that Elena's book could be written but I can't shake how confused it left me. I want the truth of Elena's story to be all that matters and I want that truth to be here, on the page, in the book she wrote.
But I don't know if I am with the mother or the daughter on each of these pages. Maybe that doesn't matter — heck, maybe it shouldn't matter how the project came together just that it is now out in the world and doing some good. I think it is important to ask these questions though and think carefully about what the answers mean.
Add a Comment