Lots of great titles from lots of great small press publishers in the 2015 Consortium catalog - here are the ones that caught my eye with some catalog copy to describe them:
Three Kinds of Motion: Kerouac, Pollock and the Making of the American Highways by Riley Hanick (Sarabande Books). In 1943, Peggy Guggenheim commissioned a mural from Jackson Pollock to hang in the entryway of her Manhattan townhouse. It was the largest Pollock canvas she would ever own, and four years later she gave it to a small Midwestern institution with no place to put it. When the original scroll of On the Road goes on tour across the country, it lands at the same Iowa museum housing Peggy's Pollock, revitalizing Riley Hanick's adolescent fascination with the author. Alongside these two narrative threads, Hanick revisits Dwight D. Eisenhower's quest to build America's first interstate highway system. When catastrophic rains flood the Iowa highways with their famous allure and history of conquest, they also threaten the museum and its precious mural. In Three Kinds of Motion, his razor-sharp, funny, and intensely vulnerable book-length essay, Hanick moves deftly between his three subjects. He delivers a story with breathtaking ingenuity.
The Shark That Walks on Land....and Other Strange But True Tales of Mysterious Sea Creatures by Michael Bright (Biteback Publishing). When you dive into the sea, do you ever wonder what's down there, beneath you, poised to take an inquisitive bite? Author of Jaws Peter Benchley and film director Steven Spielberg certainly did, for below the waves lies a world we neither see nor understand; an alien world where we are but the briefest of visitors. The Shark that Walks on Land uncovers tales of ancient and modern mariners, with stories of sea serpents, mermaids and mermen, sea dragons, and the true identity of the legendary Kraken. But this book contains more than just a medley of maritime myths and mysteries for marine biologists; it celebrates wonderful discoveries by blending the unknown and the familiar in an entertaining miscellany of facts, figures, and anecdotes about the myriad creatures that inhabit the oceans. Along the way we meet the giants, the most dangerous, the oddballs, and the record breakers; and the shark that really does walk on land!
Enormous Smallness: The Story of E.E. Cummings by Matthew Burgess, Illus by Kris Di Giacomo (Enchanted Lion Books). Here E.E.'s life is presented in a way that will make children curious about him and will lead them to play with words and ask plenty of questions as well. Lively and informative, the book also presents some of Cummings's most wonderful poems, integrating them seamlessly into the story to give the reader the music of his voice and a spirited, sensitive introduction to his poetry.
In keeping with the epigraph of the book -- "It takes courage to grow up and become who you really are," Matthew Burgess's narrative emphasizes the bravery it takes to follow one's own vision and the encouragement E.E. received to do just that.

Mischief and Malice by Berthe Amos (Lizzie Skurnick Books). Set in New Orleans, Louisiana, on the eve of World War II, Mischief and Malice is a brand new work from an iconic figure in young adult literature. Following the death of her Aunt Eveline, fourteen-year old Addie; who we first met in Berthe Amoss's classic Secret Lives; is now living with her Aunt Tooise, Uncle Henry, and her longtime rival cousin, Sandra Lee. A new family has just moved into Addie's former house, including a young girl who is just Addie's age. Meanwhile, Louis, the father of Tom, Addie's lifelong neighbor and best friend, suddenly returns after having disappeared when Tom was a baby. Between school dances, organizing a Christmas play, fretting about her hair, and a blossoming romance with Tom, Addie stumbles upon a mystery buried in the Great Catch All, an ancient giant armoire filled with heirlooms of her family's past, which holds a devastating secret that could destroy Louis and Tom's lives. Once again, Berthe Amoss has created an indelible portrait of a young girl coming of age in prewar New Orleans.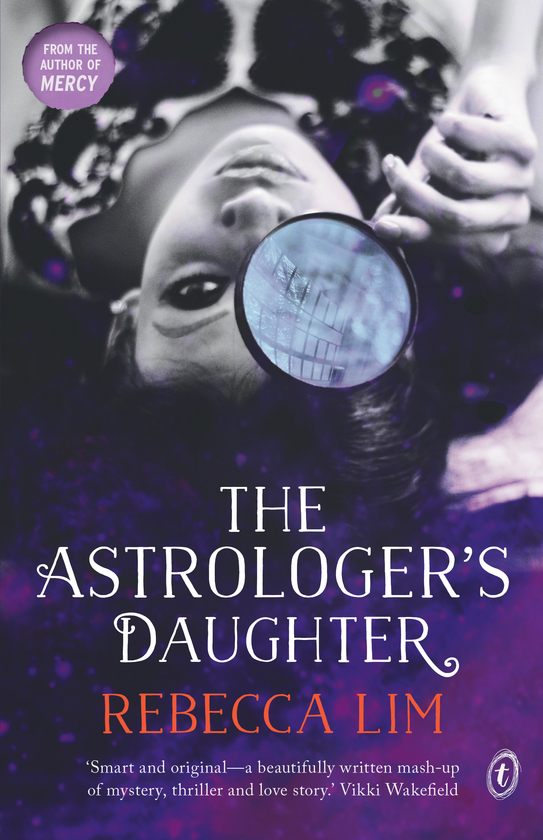 The Astrologer's Daughter by Rebecca Lim (Text Publishing Company). Avicenna Crowe's mother is missing.
The police suspect foul play. Joanne is an astrologer, predicting strangers' futures from their star charts. Maybe one of her clients had a bad reading?
But Avicenna has inherited the gift. Armed with Joanne's journal, she begins her own investigation that leads into the city's dark underworld. The clock is ticking, and as each clue unravels Avicenna finds her life ever more in danger.

The Keeper's Daughter by Jean-Francois Caron, Translated by Don Wilson (Talonbooks). Young Dorothea is appointed by the tourist bureau to direct a documentary film re-enacting life at a lighthouse off Quebec's North Shore in the 1940s and '50s. To obtain material for the film, she is advised to interview an old woman, Rose Brouillard, the daughter of a fisherman who grew up on a nearby island in the St. Lawrence. Rose is finally tracked down in Montreal. She is now old: her memory and grasp of reality are hazy; nevertheless she tells her story and takes Dorothea back to scenes from her childhood. We see fishermen on the docks with their nets, hard-at-work villagers with shirtsleeves rolled up to the elbow, leafy gardens and tree-lined streets, all recreated from Rose's failing memory. The problem is that many of these scenes are invented, not real. Does that matter? Or are the stories we tell more important?
(This one is listed as "Finding Rose" in the catalog but "The Keeper's Daughter" at the publisher and online booksellers - not sure what it really is, though.)
Load Poems Like Guns: Women's Poetry from Herat, Afghanistan compiled & translated by Farzana Marie (Holy Cow! Press). A groundbreaking collection of poetry by eight contemporary Afghan women poets in English translation en face with the original Persian Dari text. These poets live in Herat, the ancient epicenter of literature and the arts.
The Red Notebook by Antoine Laurain (Gallic Books). Bookseller Laurent Letellier comes across an abandoned handbag on a Parisian street and feels impelled to return it to its owner.
The bag contains no money, phone or contact information. But a small red notebook with handwritten thoughts and jottings reveals a person that Laurent would very much like to meet.
Without even a name to go on, and only a few of her possessions to help him, how is he to find one woman in a city of millions?
The Little Free Library Book by Margret Aldrich (Coffee House Press). Take a book. Return a book." In 2009, Todd Bol built the first Little Free Library as a memorial to his mom. Five years later, this simple idea to promote literacy and encourage community has become a movement. Little Free Libraries; freestanding front-yard book exchanges; now number twenty thousand in seventy countries. The Little Free Library Book tells the history of these charming libraries, gathers quirky and poignant firsthand stories from owners, provides a resource guide for how to best use your Little Free Library, and delights readers with color images of the most creative and inspired LFLs around.
Fanny Says by Nickole Brown (BOA Editions, Ltd). In this "unleashed love song" to her late grandmother, Nickole Brown brings her brassy, bawdy, tough-as-new-rope grandmother to life. With hair teased to Jesus, glued-on false eyelashes, and a white Cadillac Eldorado with atomic-red leather seats, Fanny isn't your typical granny in a rocking chair. Instead, think of a character that looks a lot like Eva Gabor in Green Acres, but tinted with a shadow of Sylvia Plath.
Chernobyl Strawberries by Vesna Goldsworthy (Wilmington Square Books). How would you make sense of your life if you thought it might end tomorrow? In this captivating and best-selling memoir, Vesna Goldsworthy tells the story of herself, her family, and her early life in her lost country. There follows marriage, a move to England, and a successful media and academic career, then a cancer diagnosis and its unresolved consequences. A profoundly moving, comic, and original account by a stunning literary talent.
The Surfacing by Cormac James (Bellevue Literary Press). Far from civilization, on the hunt for Sir John Franklins recently lost Northwest Passage expedition, Lieutenant Morgan and his crew find themselves trapped in ever-hardening Arctic ice that threatens to break apart their ship. When Morgan realizes that a stowaway will give birth to his child in the frozen wilderness, he finds new clarity and courage to lead his men across a bleak expanse as shifting, stubborn, and treacherous as human nature itself.
Well Fed, Flat Broke by Emily Wright (Arsenal Pulp Press). This collection of 120 recipes ranges from the simple (perfect scrambled eggs, rice and lentils) to the sublime (Orecchiette with White Beans and Sausage, Mustard-fried Chicken). Chapters are organized by ingredient so that you can easily build a meal from what you have on hand. Well Fed, Flat Broke has flavours to please every palette including Thai, Dutch, Indonesian, and Latin American-inspired recipes such as Kimchi Pancakes, Salvadoran Roast Chicken, and Pantry Kedgeree, reflecting a diverse array of affordable ingredients and products in grocery stores, markets, and delis.
Emily is a working mother and wife who lives with a picky toddler in one of Canada's most expensive cities. She offers readers real-talk about food, strategic shopping tips, sound advice for picky eaters, and suggestions on how to build a well-stocked, yet inexpensive pantry. Cooking every night can be challenging for busy families who are short on time and lean in budget; Emily includes plenty of one-pot dishes to keep everyone healthy, full, and happy.
Add a Comment